Recruiting Profile
McDonald Loses at Kalamazoo, Qualifies for ATP Event in Cincy
by Rick Limpert, 18 August 2013
During a time when most college freshman are meeting roommates and moving into their dorm rooms, UCLA-bound tennis player Mackenzie McDonald has been making history at one of the most important professional tennis tournaments of the year.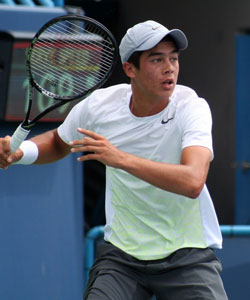 18-year old McDonald, turned a disappointing loss into an opportunity, an opportunity to take a wildcard offered to him by USTA coach Jay Berger into the ATP Masters 1000 event being played this week in Cincinnati.
"When I lost in the back draw at Kalamazoo, Jay Berger saw my dad and I and offered us the wildcard," said McDonald. "I didn't even know this tournament was going on; I was expecting to play an ITA college tournament [this week]."
McDonald made the most of the opportunity, winning his first qualifying match over ATP World Tour No. 79 Nicolas Mahut of France and then defeated a former NCAA champ and USC player in Steve Johnson 3-6 6-4 6-4.
The fact that Johnson is a USC legend - and that McDonald is heading to UCLA - is something the Bruin to be was thinking about.
"I made sure I was wearing my UCLA hat out to the court," laughed McDonald after the Johnson victory.
McDonald's qualifying opponents in Mahut and Johnson weren't laughing after they fell to a player that didn't even have a world ranking.
"I didn't expect to win two matches in qualifying in this tournament," said McDonald.
In his main draw first round match, played Monday night under the lights on the Grandstand Court, McDonald met his match in falling to Belgian pro David Goffin 6-1, 6-1. Even in the loss, McDonald said all the right things and said he learned a lot this week, kind of like a first week for a freshman in college.