Commitment Profile
Countdown: Victor Brown Commits to the Cougars
by James Hill, 24 October 2013
Victor Brown, a five-star recruit from Rancho Cucamonga, Calif., has known which school he wanted to attend since he was a small boy.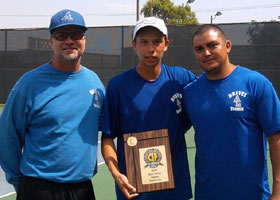 Victor Brown
with Coaches Ekelund and Serasera after the CIF Final in June
That being said, Victor, who has been ranked in the Top 50 of the Athletic DNA Class Rankings, will travel to Provo, Utah, to become a member of the
Brigham Young University Cougars
men's team in the fall. He plans to make it official next month by signing the National Letter of Intent.
"I chose BYU because that's where my dad's uncles and aunts, my dad's parents, and all of my uncles and aunts on my dad's side went," said Victor, who has an RPI of 49. "BYU is our No. 1 school of choice. There was never any doubt about where I wanted to go, and when I found out that BYU was as interested in me as I was in them, it was a perfect match."
The interest to which Victor referred was expressed by BYU coach Brad Pearce, in his 10th season at the Cougars helm. Pearce has taken the Cougars to the NCAA Division I Tournament for the past three years. He has guided the team to two Mountain West Conference Championships and was named MWC Coach of the Year on two occasions. In addition, Pearce was twice elected as Intercollegiate Tennis Association Mountain Region Coach of the Year, including 2013. The Cougars have an undefeated 36-0 record in the ITA Mountain Region over the past four years.
A former member of the pro tour, Pearce's highest career ranking in singles was No. 71, and he was ranked 23rd in doubles. Pearce is one of 17 Americans to reach the quarterfinals of Wimbledon in the last 28 years. He was a two-time All-American at UCLA, and went on to graduate from BYU after his pro playing days.
Victor is a member of the Church of Jesus Christ of Latter-day Saints, and he stated BYU, a Mormon school, would be the perfect fit. He was courted by a number of institutions, including the University of California-Davis, University of California-Santa Barbara, University of San Diego, Fresno State, Texas Christian University, Tulane, Notre Dame, North Carolina State, Pennsylvania, Dartmouth, Connecticut, Utah, and the University of Denver.
"It was an honor having all these schools interested in me, but there was never any question about where I wanted to go," said Victor, who is ranked 11th in California. "I was so determined to attend BYU, that I knew any visits to other schools would just be a waste of their money. So, I didn't accept any other visits."