Commitment Announcement
Ellyse Hamlin Makes Early Commitment to the Blue Devils
by James Hill, 9 October 2013
Blue Chip junior Ellyse Hamlin, who sits at No. 3 in this week's Babolat Class Rankings, is one of the most sought-after recruits in the nation. Many top recruits make their college decisions during their junior year, and Hamlin is no exception.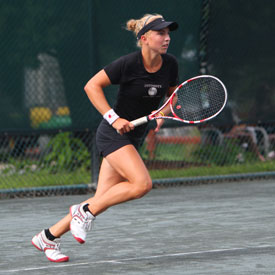 For the 16-year-old from Fairfield, Conn., the decision came down to tennis, academics, and the school environment - but the men's basketball team didn't hurt, either. Ellyse Hamlin has made a verbal commitment to Coach Jamie Ashworth and the
Duke Blue Devils
.
"I chose Duke because of many things," said Hamlin, who studies online at the Laurel Springs School. "I fell in love with the size of the school and how it was so intimate. I also loved the team, coaching staff, facilities, and what they had to offer academically. I have also been a huge Duke basketball fan for many years.
"The next twelve months are about getting better. Knowing where I am going to school is a huge motivating factor, and now I can just focus on getting my game to where I can immediately have an impact at the collegiate level. I plan on playing a mixture of ITF junior and Pro Circuit events."
Hamlin considered a number of other schools with strong and storied programs - including Georgia, North Carolina, Georgia Tech and Florida. But her unofficial visit to Duke at the end of September sealed the deal.
One thing that impressed Hamlin during her visit was the coaching staff - head coach Ashworth and assistant Marc Spicijaric. Duke has certainly had success under Ashworth, advancing to the NCAA Final Four eight times during his tenure and winning the program's first national title in 2009.
"They are both amazing coaches," said Hamlin. "I believe they can help bring my game to the next level. Jamie and Marc see my game and future development on the exact pathway as I do. I feel comfortable in the direction that they will help me take my game. It also didn't hurt that Jamie is a Red Sox and Patriots fan!"