Commitment Announcement
Countdown: Logan Staggs Joins the 'Cats
by Rhiannon Potkey, 29 October 2013
As a small player from a small city, Logan Staggs knew he needed to employ unconventional methods to experience success in tennis.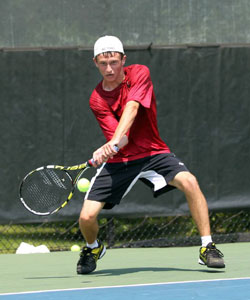 The 5-foot-7, 135-pound left-hander would need to be resourceful, persistent and extremely dedicated to overcome opponents with more physical and geographical advantages.
He would need to drive harder on the court and drive farther off the court to reach his full potential.
Staggs recently celebrated another milestone along his journey when he verbally committed to play for Northwestern.
The blue chip recruit from Tracy, Calif., made official visits to Northwestern, Michigan, Vanderbilt and Texas before deciding Northwestern was the best fit for his athletic and academic future.
"Being there on campus is when I really knew," Staggs said. "I walked out on the courts with the team during a practice and it kind of felt like a home away from home."
Staggs started playing tennis early because his father thought it would be a good sport for them to bond.
Staggs first set foot on the court at age 2, but couldn't actually hit a ball consistently until age 4.
"At first I was crying when my dad drove me out there," Staggs said. "But eventually it grows on you and I started enjoying it and started playing more and more."
Staggs experienced immediate success by winning the first tournament he ever entered at age 7.
But developing his game to an elite level was not easy. Tracy is not exactly a hotbed of tennis. Staggs usually has to drive more than two hours for lessons.