Tournament Summary
Virginia's Frank Takes Second All-American Championship in Tulsa
by
Colette Lewis
, 10 October 2013
For all the upsets and unexpected results at the St Francis Health System ITA Men's All American Championships in Tulsa last week, the winner was hardly a surprise. Mitchell Frank of the University of Virginia collected his second ITA All-American singles championship, running his winning streak at the event to 12, after recording a 6-3, 6-0 victory over Oklahoma's Guillermo Alcorta.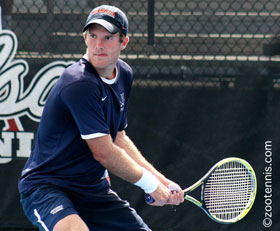 With a look of grim determination, Mitchell Frank of
UVa
captures another All American singles title
©
ZooTennis.com
Frank, a junior from Annandale, Va., was unable to defend his
2011 title
last year, with a knee injury keeping him out of action during the fall season. But back at the
Michael D. Case Tennis Center
at the
University of Tulsa
, the No. 12 seed picked up right where he left off, dropping only one set en route to the title.
The set he lost was the first one he played, against freshman wild card Mackenzie McDonald of UCLA, but Frank found his form in time to post a 6-7(1), 6-1, 6-2 victory. Most of the other seeds were not as fortunate, and by the end of the second round, there were more qualifiers remaining (5) than seeds (4).
Two freshmen qualifiers made an impact, with George Goldhoff of Texas knocking off top seed Mikelis Libietis of Tennessee on his way to the quarterfinals, and Ronnie Schneider of North Carolina taking out No. 15 seed Ben Wagland of Georgia before exiting in the third round.
Qualifier Jonny Wang of Southern Cal eliminated 2012 finalist and No. 2 seed Peter Kobelt of Ohio State in the opening round, while Georgia sophomore Austin Smith, yet another qualifier, reached the quarterfinals by coming from a set down to win three straight matches. Smith's loss to unseeded Gonzales Austin of Vanderbilt in the match of the tournament - a three-hour and 37-minute battle decided in three tiebreakers - left Austin without resources in his semifinal encounter with Alcorta two hours later, and the Oklahoma senior advanced to the final with a 6-0, 6-3 win.
In Sunday morning's final, with a cool northwesterly breeze adding to the challenge of his first collegiate major, Alcorta did manage to control his nerves and stay with Frank in the first four games.
But with Alcorta serving at 2-2, three unforced errors and a return winner by Frank put him in the lead to stay.
"I got a break over here - with the wind - and served pretty well," said Frank, who did not face a break point in the match. "I was able to hold easily on my serve throughout the whole day. The first set was kind of a tough one, and I thought he would come out strong in the second, but when I got that early break, I think he kind of lost it a little bit, [it] broke his will a little bit, so that helped me get through in the second."
Alcorta admitted the path back into the match eluded him.