Commitment Profile
Fall Signing Week '13: Hodge Chooses Rice After 'Tough Decision'
by Rick Limpert, 14 November 2013
Few junior tennis players were as prepared as Blue Chip senior Lindsey Hodge when it came to deciding on which college to attend. She and her family took fifteen unofficial visits to schools around the country, often piggybacking visits with tournament competition.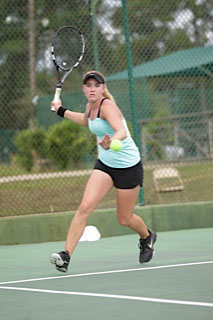 Hodge had planned to wrap up her recruiting process during the spring of her junior year, but deciding was tougher than she expected.
"I thought I would make my decision early, but as I was going through it, I realized I needed more time," offered up Hodge. "I wanted to sort through all my thoughts - it was hard because I loved everywhere I went."
Hodge went on to explain that she probably could have been happy at any of the schools she visited, but one place really distinguished itself from the rest.
"One thing that really stood out at Rice were the coaches and the girls on the team," said Hodge, a senior at Rivers Academy in Alpharetta, GA.
Head coach Elizabeth Schmidt, who has posted winning seasons in each of her five years at Rice, was a big factor in Hodge's decision.
"All the coaches at the various schools know each other very well, and every coach I talked with likes and respects Coach Schmidt. She was always so genuine, warm, and easy to be around. And she truly made me feel like she wanted me at Rice."
Hodge also connected with her future teammates, especially on her official visit.
"I stayed with [Rice freshman] Allison Ho, and she is the sweetest and most awesome person," said Hodge. "She has adjusted so well to college, and I am excited about being on the team with her."
The Owls are getting an athlete who is an all-court player - and someone who is comfortable in all areas of the court.
"Lindsey is very smart on the court," said her mother, Kim Glass. "She rarely beats herself, and she is very good at changing her game to attack her opponents."