Commitment Profile
Fall Signing Week '13: South Carolina Gains Momentum with 2014 Class
by Blair Henley, 16 November 2013
If there is a magic formula when it comes to college tennis recruiting, University of South Carolina head coach Josh Goffi and his assistant Ryan Young have had some serious success in their Columbia-based lab. In less than four years at the helm of the Gamecock program, Goffi has put together ranked recruiting classes three times, including a stellar 2014 haul. Next fall the team will add a pair of Blue Chips, Thomas Mayronne and Harrison O'Keefe, plus Five-Star recruit Wood Benton.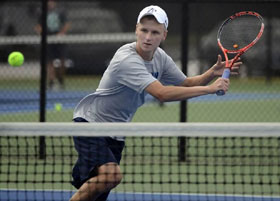 All three of these high school seniors took different paths to becoming South Carolina signees, but each one had the same key items on his college search checklist: good coaches, good teammates and a chance to win a national title.
Wood Benton, a resident of nearby Spartanburg, S.C., who has been attending Gamecock football games since he was five years old, said Coach Goffi clearly spelled out the reasons why South Carolina was the right choice.
"He told me, 'We are going to be competing for an SEC title and a national championship. If you come in with this class, you're going to be pushing each other. There is no limit to how good you guys can be,'" Benton explained.
A self-described "counterpuncher," Benton took visits to Georgia Tech, Furman and Wake Forest, but admits that South Carolina was always his first choice. It may have something to do with the fact that Gamecock pride runs in the family - his father is an alumnus and his older brother currently attends the school.
For years USC has been a serial straggler in the SEC arms race, their last NCAA tournament win coming in 2005, but things began to change for the Gamecocks last season. A combination of talent and hard work launched the team from No. 39 in the ITA college rankings to No. 18, garnering Goffi SEC Coach of the Year honors. They would go on to lose in the first round at the NCAA team championships, but not before establishing themselves as national contenders.
Perhaps more impressive than the Gamecock's rise in the rankings was the fact that the coach saw it coming. Thomas Mayronne began talks with USC when the team was ranked outside the top 50. Goffi guaranteed they would finish the 2013 season inside the top 20.
"He pulled in a bunch of really good recruits," Mayronne said, "and he delivered on his promise."