Who's Hot?
Prince Hot 100 List - December '13
by Amelia Thomas, 16 December 2013
The weather is getting increasingly colder, but junior tennis players around the nation are still turning up the heat. We recognize some of these performances in this month's Prince Hot 100 Lists.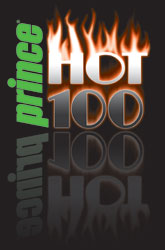 The Prince Hot 100 lists are published each month, and the December Hot 100 lists feature the one hundred boys and girls who most improved their rankings during the month of November. You can find out more about the Prince Hot 100 - and how the lists are calculated - by reading here.
The latest lists, published today, are now available:
Let's take a look at a few of these players...
Roundup
Langford Hills (Atlanta, Ga.)
Four-star senior Langford Hills got into tennis because of his brother, Christopher. He joined his brother at the local country club and instantly fell in love. When he got home that day, he constructed a makeshift tennis court in his basement and hit balls against the wall.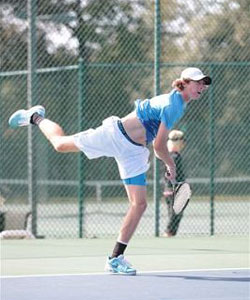 "He is seventeen years old now, training at an outstanding facility, competing in sectional and national tournaments, and deciding where he wants to go to college next year. But still, every now and then, he heads down to the basement and bangs the ball on that back wall, where masking tape still serves as the top of his "net," his mother, Lisa Hills, said. "I will surely miss that sound when he goes off to college."
Langford Hills credits his improvement to developing his mental game. "I made a strong commitment to improving the mental aspects of my game in the past year, and I am starting to see that effort pay off," he said. "There are a lot of good players out there, but I think what separates the good players from the great players is how well they have mastered the mental part of this game."
Hills started working with coach Brian deVilliers of the Life Time Athletic Club last year, and he has helped Hills understand the importance of his mental game. "In practice, I am trying to simulate pressure situations so that I am comfortable being uncomfortable in tight matches," Hills said. "A major contributing factor to the success of my game relates to me staying positive and having fun."
The Atlanta, Ga., native had to put his mental skills to the test last month in a match against blue-chip junior Walker Duncan in the playoffs of the Bullfrog USTA Southern Designated. "I had just come off a disappointing loss in the semifinals. Not only did I have to regroup after the loss, but to make things even more difficult, I was playing a good friend who trains at my academy," Hills said. "Winning third place was my best result ever in a Bullfrog."
This win gave Hills a boost in confidence that he carried on to the next tournament. He reached the consolation quarterfinals of the Fall Southern Closed Championships, bringing his record for November to 8-3.
"I believe the work I have been putting in on my mental game has really paid off especially in both of these tournaments," Hills said.
Another contributing factor to Hills' success, he says, is his dedication. "Something that separates me from other tennis players is my work ethic," he said. "Every time I step on the court, I'm operating at 120 percent. Something that I make sure of is that I always leave a practice session on a good, positive note."
Lisa Hills has seen her son's progress first-hand and knows it won't stop here. "The time and effort Langford put into improving his mental game has paid off," she said. "He has seen some good results in the past several months and as a result, his belief and his confidence have tremendously improved. We have always believed in him, and he is now starting to believe in himself. Wherever life takes him, that belief in himself will serve him well."