Commitment Profile
Fallia and Letzt Are Women of Troy
by James Hill, 1 January 2014
In 1912, Los Angeles Times sports editor Owen Bird was asked to select an appropriate nickname for the University of Southern California athletics teams. Bird came up with the name "Trojan" to indicate that the teams had a "splendid fighting spirit."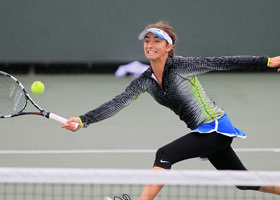 Fast forward 103 years to 2015, and "the Women of Troy" will have two Blue Chip tennis players who will carry on a proud tradition.
Jessica Failla
of Ramona, Calif., and
Alexandra Letzt
of Scottsdale, Ariz., will don the Cardinal and Gold as new members of the USC women's tennis team.
Jessica and Alexandra are both juniors in high school and cannot sign the National Letter of Intent until next year. But both future collegiate stars are definitely headed to the City of the Angels.
Jessica is ranked 19th nationally in the Babolat Class Rankings, and third in California. She is sporting an RPI of 10. Alex is ranked fourth on the national list, and No. 1 in Arizona, while holding a RPI of 12.
The Women of Troy are led by head coach Richard Gallien, who is in his 19th season at the USC helm. Gallien, a two-time All-American at Pepperdine (1982 and 1983), has guided USC to the NCAA Championship tournament for 18 consecutive years. Included in the NCAA run are two trips to the semifinals, and seven to the quarterfinals. The Trojans have 10 top-10 finishes during his tenure and 17 in the top-20. Last season, Kaitlyn Christian and Sabrina Santamaria captured USC's first NCAA Women's Doubles Championship. The associate head coach is West Nott, who is in his seventh season with the Trojans.
Gallien is not permitted to comment on Jessica or Alex until they sign the National Letter of Intent.
Jessica comes from a tennis family, and she also has USC in her genes. Her mom and dad, Greg and Katrina, operate Failla Tennis in Ramona and train their oldest daughter. Greg was a two-time All-American at Long Beach State before transferring to USC where he played No. 1 singles during his senior year. He went on to a seven-year pro career. The former Katrina Crawford was a top player for Trinity University during the Tigers NCAA Division I days. Lee Merry of Rancho Bernardo also trains Jessica.