Commitment Profile
Jess Jones Commits to Being a Volunteer
by Rick Limpert, 24 February 2014
Warner Robins, Ga., native, and top-20 national recruit, Jess Jones had some redecorating to do in his living space once he made his college commitment. More on that in a bit, but while talking with Jones for about 15 minutes, I could hear him let out a sigh that the recruiting process is over, and he is 100% sure he made the right choice.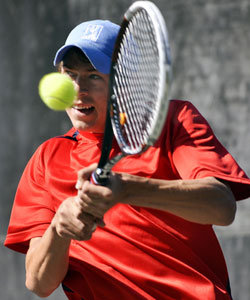 Jones recently made his commitment to the
University of Tennessee
, but it wasn't easy.
"It was tough," said Jones. "I originally committed to Alabama but decided to decommit. I went up to Knoxville and felt at home. It's not only a great place, but I thought I fit in well with the team."
Fitting in well with the team was pretty easy since Jones already knew a few of the Volunteers. In fact, two of the upperclassmen on the team were instrumental in making Jones comfortable in Knoxville.
"I knew Hunter Reese throughout my juniors, and I know Andrew Dromsky was at Georgia Southern since my sister goes there," pointed out Jones. "I think it's great that I already know some people as I head up there."
The Volunteer coaching staff also made a big impression on Jones.
"They have a great coaching staff with Coach (Sam) Winterbotham being ITA National Coach of the Year in 2013 and two assistant coaches that played on, and were ranked in the top-30 the ATP World Tour. That is something nobody else can really offer."
Recent results like winning the Southern Winter Championships on Hilton Head seem to suggest Jones is ready to make the leap to college tennis.
"Yeah, I might be considered a late bloomer," admitted Jones. "I think my last year in 16s I made it to the quarters of the Orange Bowl, and after that something happened.
Jones said he always thought of himself as a player "right on the cusp," but with added confidence and more variety in his game, he said he surprised some by shooting up another 10-15 spots in the rankings.
Jones says he owes a great deal of thanks to those that have brought out the best in him the last few years.