Commitment Announcement
Countdown: Kaylin Kruseman to St. Mary's
by Granger Huntress, 12 April 2014
When it came to deciding on where to play college tennis, the decision was easy for Four Star recruit Kaylin Kruseman, who will attend Division II St. Mary's University (Texas) in San Antonio next fall.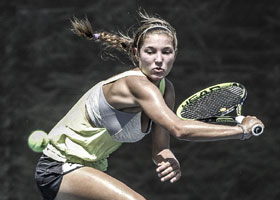 "It is such a cliché," says Kruseman, knowing how typical her answers sounds. "It is just the perfect fit: the team (almost all Texans), the coach (third year coach Lisa Dausin), the environment (Catholic) and it is in-state."
All of those factors contributed to the self-described sports fanatic electing to pursue a sports marketing major in the Alamo City.
"I love all sports," says Kruseman. " I cheer for Texas and LSU in college football, the Cowboys, if I have to pick a team for the pros and I love the Boston Celtics and Red Sox. My brother is a Yankees fan, so I guess you could say there's some tension in the house!"
St. Mary's has not been on most people's tennis radar, having lingered in relative obscurity until Coach Dausin turned the program around last season, winning the Heartland Conference for the first time in school history and reaching the NCAA Tournament - also for the first time - with an 18-5 record.
Kruseman fits right in with Dausin's intent to try and keep some of that top tier Texas Super Champ talent in state.
With Kruseman, Dausin will get quite a unique player. Although she can play the typical counter punching style so prevalent these days, Kruseman prefers to play a mixed game.
"I like to be aggressive, when I have a chance," says Kruseman. "I love volleying and really like to chip and charge. Back before I changed my backhand, everyone used to call me Justine Henin."
She now hits a two hander, but that doesn't take away from her wanting to get to net. That should pay big dividends in the college game where not only doubles is so important, especially at the Division II level where all doubles points count, but also where solid volleying can be a momentum changer in singles.
In addition to being an aggressive player, Kruseman hangs her hat on her work ethic, fight and determination. This sometimes comes as a surprise to people who know her as one of the more social players at tournaments.
"I am a talker and love having fun at tournaments," says Kruseman. "When I am off the court, I tend to not be all that serious, but when I get to the court, I can flip a switch and be the most determined player out there."