Commitment Announcement
Spring Signing Week '14: Mira Ruder-Hook Goes Wolverine Blue
by
Ali Jones
, 16 April 2014
Mira Ruder-Hook has a slight difference in opinion to the popular quote "winning isn't everything. It's the only thing."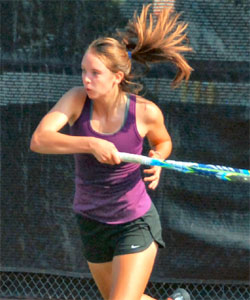 "Wins are more fun," said the senior from Denver, Colorado. "But it's the losses that have motivated me. I'm competitive so a loss is an opportunity to change and do things differently."
This attitude has propelled Ruder-Hook from four-star status as a freshman to a Blue Chip ranking high of 18 in the Class of 2015 and an ITF ranking high of 124. She has won three ITF Grade 4 titles, two in New Zealand and the other in Barbados.
Her steady climb has opened up numerous college options for her, including Michigan, Virginia and Florida.
After thorough and careful thought, Ruder-Hook has chosen to sign her National Letter of Intent with the Michigan Wolverines.
Her choice came down to a "combination of things," the most important being an exceptional tennis program in a setting of great academics. She found them both at Ann Arbor.
"I love both coaches, I love the team, and the academic support was what I was looking for," Ruder-Hook said. "Michigan has everything for me."
Head Coach Ronni Bernstein and Associate Head Coach Teryn Ashley-Fitch have taken the team to four consecutive NCAA Sweet 16 appearances and a fourth straight Big Ten title. Both were All Americans and former tour players.
What stood out for Ruder-Hook, however, was that both coaches encourage and emphasize a culture of camaraderie.
"It was important for me to have a cohesive team," the 6-foot-2 tall righty reflected. "The team is really bound together. They are all competitive on the court and have high expectations of themselves, but are very involved with each other and are really good friends. That's not an easy thing to do. I was really happy to see that."