Tournament Summary
Nakagawa, Bellis Claim ITF Grade 1 International Spring Championship Titles; McNally and Miller Capture 16s
by
Colette Lewis
, 11 April 2014
Naoki Nakagawa of Japan and CiCi Bellis of the United States took alternate routes to the final, yet both finished with titles last week at the ITF Grade 1 International Spring Championships at the StubHub Center in Carson, California.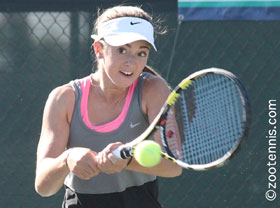 The week began with three days of cool and gusty winds before ideal conditions arrived late in the week, but Bellis handled it all, with the No. 5 seed claiming her six victories in straight sets.
After defeating 2013 semifinalist Christina Makarova 6-3, 6-4 in the quarterfinals, Bellis moved into the final with a 6-2, 6-4 win over unseeded Kelly Chen.
While Bellis had won the Grade 1 Coffee Bowl in Costa Rica earlier in the year, Sunday's final was a first at that level for her opponent, No. 9 seed Raveena Kingsley. Kingsley had earned her place in the championship match with three consecutive wins over higher-ranked players, beating No. 6 seed Naiktha Bains of Australia 6-4, 6-4 in the third round, No. 2 seed Sofia Kenin 6-0, 6-4 in the quarterfinals and No. 4 seed Usue Arconada in the semifinals 1-6, 7-6(3), 6-1.
Bellis' experience and defense proved to be too much for the hard-hitting Kingsley however, with Bellis claiming the championship match 6-3, 6-0.
"She's a really aggressive player, so my defense had to be on today," said Bellis, who turned 15 on Tuesday. "I kept thinking to myself, play my game, play aggressive and try to defend as well as I can. As I said, she's an aggressive player, so I just had to stay with her and try to put it away."
Bellis, who is now traveling with 2004 NCAA singles finalist Jelena Pandzic, never trailed in the match, but she was broken twice, serving at 2-1 and for the first set at 5-2, as both girls struggled getting their first serves in play. The Atherton, Calif. resident said she thought that might be due to nerves, but Kingsley pointed to fatigue as the cause of her erratic play.
"I was probably just a little tired, physically and mentally," said Kingsley, who had overcome a slow start in her three-set win over Arconada, but could not find her rhythm Sunday. "She's won a Grade 1 before, so maybe that helped her confidence."
With her second Grade 1 title, Bellis has moved to a career-high ITF junior ranking of 36, assuring herself direct entry into the French and Wimbledon junior championships.