Special from
Scholarship For Athletes
Scholarship for Athletes
sat down with Danielle Lao a former
USC
women's tennis player. Danielle is currently on the professional tennis tour, and she recently wrote a book about her college tennis experience titled
The Invaluable Experience
. She was interviewed about her recruiting process, how she chose USC, and how her time there benefits her today.
Questions and Answers
Jake Hartman (JH): As one of the best junior tennis players in the country, when did you realize you wanted to play college tennis?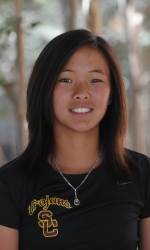 Danielle Lao (DL):
All throughout junior tennis I dreamed and believed that I would play in the grand slams one day. When I was 16 reality started to hit me. My parents played a huge role in advising me in my tennis career. Together we decided to play college tennis first, and then I could pursue a professional tennis career. This way I was not giving up my lifelong dream or a free college education.
JH: After almost committing to UNC you made a last minute decision to attend USC, what happened?
DL: When it came down to choosing USC over UNC last minute, I chose USC because I was apprehensive about leaving home [California]. USC was not in the picture at all when I nearly chose UNC. Before USC, I was torn between UNC and Northwestern, which are two great schools. UNC was more appealing at the time because they portrayed to me how great their athletic support was, and they showed me the Tarheel network. I loved the vision the coach set out for their program, but my only concern was that it was so far away from home.
As fate had it, USC gave me a last minute call. I knew that committing there would rid me of my worries about relocating to UNC. USC to me had the similar characteristics that I loved about UNC - but it was only 20 minutes away from home.
JH: What to you was the most special aspect of playing a college sport?
DL: The bond with your teammates is special. Sharing the good and bad days with them was one of the best things - if not the best thing - about college tennis. Seeing individuals with different backgrounds and from different places come together to achieve a common goal and support each other in the lowest moments has to be one of the most invaluable experiences.