Commitment Announcement
University of Southern Kal: Boyd Chooses USC
by Blair Henley, 25 June 2014
From an outsider's perspective, Kalman Boyd's college recruiting process should have been an easy one. His father and uncle attended the University of Southern California, and his grandfather Bob Boyd coached the USC basketball team from 1967 through 1979. If carrying on the family legacy wasn't enough motivation, Boyd had determined through his tournament travels that Southern California was the ideal spot to settle. On paper, USC was the perfect fit.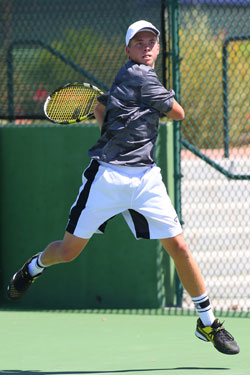 But tennis recruiting is a two-way street. Despite his distinction as a Blue Chip recruit, Boyd, 17, knew it wouldn't be easy to claim a spot on a team that has won five NCAA Division I titles in the last six years, including the
2014 National Championship
.
No matter what his college decision, Boyd's junior career had set him up for a promising future. In an effort to follow in the footsteps of his tennis-playing older brother J.P., Boyd went to his first clinic at the home of his neighbor, fellow Blue Chip prospect Taylor Fritz. Boyd was 7 years old and, by his own admission, he got a slow start.
"I was actually pretty horrible at tennis through the 10s and 12s," he said. "I was super impatient, and I always wanted to hit super hard. Everyone was moonballing and pushing. I was kind of a head case."
His game style may not have immediately translated into victories, but his aggressive approach would eventually pay off. After winning his first tournament in the 14-and-under age bracket, Boyd began to realize his potential. He also smoothed over some of his psychological weaknesses.
"Before that, I would be at clinics around all of these adults, and I'd be smashing my racquet in practice, almost crying," he said with a laugh. "I'm not doing that too much anymore."
Boyd's transition to online school after his freshman year gave him the freedom to play both USTA and ITF tournaments. It was while competing internationally that that his mental toughness improved the most.
"When I was in South America, there was a lot of cheating, a lot of getting in your head in different languages, a lot of bullying on the court," he explained. "Back [in the U.S.] when someone tries to do something to me, it doesn't faze me because I've dealt with much worse."