Who's Hot?
Prince Hot 100 List - June '14
by Amelia Thomas, 17 June 2014
Now that school is out around the country, junior players are putting the extra time to good use. Many are turning up the heat in tune with the rising summer temperatures. We recognize some of these top performances in this month's Prince Hot 100 Lists.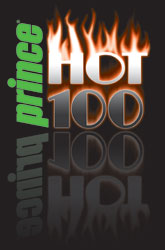 The Prince Hot 100 lists are published each month, and the June Hot 100 lists feature the one hundred boys and girls who most improved their rankings during the month of May. You can find out more about the Prince Hot 100 - and how the lists are calculated - by reading here.
The latest lists, published last week, are available here:
Let's take a look at a few of these players...
Roundup
Mackenzie Worsnop (Newport Beach, Calif.)
Two-star rising sophomore Mackenzie Worsnop credits the positive shift in her tennis to the emphasis she has been placing on her mental game.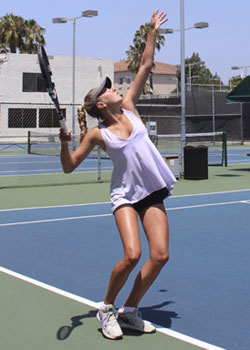 "The significant change in my game was a result in a change of mindset. My strokes never seemed to be the issue, but rather a test of my mental game," Worsnop said. "I had to convince myself that I didn't need to hit a winner on every shot and that I needed to just be more patient."
The Newport Beach, Calif., native works with coaches Phil, Taylor and Jenny Dent of the Dent Tennis Academy. Her father, Peter Worsnop, says that the Dents' influence has been a literal game-changer.
"We believe Mackenzie's improvement stems from the great coaching at Dent Tennis Academy. They have really stressed that success will come from having a plan, sticking to it and playing solid tennis," he said. "Mackenzie has embraced their philosophy and works hard at her game every single day."
Indeed, Mackenzie Worsnop stresses that her work ethic is crucial to her game. "I am really committed to working on the right things every second I'm on court," she said. "I also think that my perseverance and hard work were important components in my success."
Worsnop believes that the intensity of her game sets her apart from her peers. "I hit the ball very hard, I think harder than most players out there. I have an offensive style of game that involves me taking many balls on the rise. I believe that my serve is one of my biggest strengths, and that my groundstrokes are strong as well," she said.
The five-foot-seven player showed off her new skills, especially the improvement in her mental game, in what she considers her best match of May. She faced five-star Rena Lin in the first round of the Esme Pearson Memorial Open Tournament.
"I just played solid tennis," Worsnop said. "To win, it seems I have to just play smart. I was doing the right things, and I won in two sets 6-2, 6-1 by just playing my game. I was mentally and physically strong that day."
Another highlight of Worsnop's recent game was winning the Match Point Spring Junior Open. Worsnop achieved a 7-2 record for May and leapt over 150 spots up on the Babalot College List.
Tennis is not Worsnop's only claim to fame, and she enjoys several other accomplishments in her life. She is a participant of the Newport Beach Junior Lifeguard Program, she plays the piano, and she speaks French. She is also heavily involved in community service, often using her sport to raise money for charity, such as through tennis-a-thons.
Worsnop's main coach, Taylor Dent, believes that her work ethic will carry her far in all areas of her life. "Mackenzie is a perfect example of how quickly you can improve when you work hard and do the right things," Dent said. "That attitude will continue to serve her well as time goes by."