Clay Court Championship Week
Unseeded Emma Sweeps Girls 14 Clay Courts
by Marcia Frost, 23 July 2014
It wasn't an easy task. Victoria Emma had to fight through the soaring temperatures, hot sun, rain, and much higher ranked opponents, but she got past all the obstacles and took home her first two Gold Balls from the USTA Girls' 14 Clay Court Championships.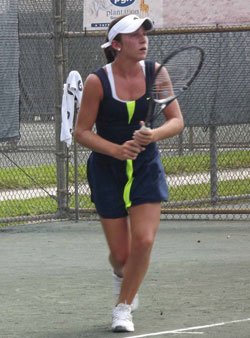 To say Emma was an underdog would be an understatement. The almost 15 year old (her birthday is coming up in early August) came into the event ranked as No. 252 in the Girls' 14-and-under age group. Despite this, she held on to her talent with sheer determination and clawed her way through the draw.
On the way to the final round, the Naples, Florida, native outlasted six seeded players, including No. 3 Nicole Conard of Boca Raton. Three of her matches went the distance of three sets. Among those were a long semifinal with No. 17 Marlee Zein of Sugar Land, Texas, that lasted for hours in the hot sun Friday, and a final against No. 8 Sophia Edwards of Sarasota, Florida.
In the championship match, Victoria Emma really proved her staying power. After taking the first set, 6-2, she succumbed 3-6 in the second, before coming back to shut out the seed in the final set. And, her day was not over.
Emma continued to impress by repeating the feat in the doubles. She partnered with another Floridian, Anna Bright of Boca Raton, to also conquer that draw. Bright had a huge singles accomplishment of her own when she took out the tournament's No. 1, Taylor Johnson of Redondo Beach, California, in the quarterfinals of the main draw.
The unseeded Emma and Bright joined forces in doubles and dispatched the No. 3, 7 and 9 before defeating top-seeded team Malkia Menguene of Washington, DC, and Natasha Subhash of Fairfax, Virginia, in the final match of the tournament, 6-4,6-3.
Nicole Conard and Alana Wolfberg (Orlando, Florida) took third place in the doubles with a win over Sarah Bahsoun (Los Gatos, California)and Niluka Madurawe (Sunnyvale, California), while Zein beat Abigail Forbes (Raleigh, North Carolina), 7-5,7-6(0) in the singles playoff. (Forbes had been a winner of the Northeast Draw in the Girls' 12 Claycourts last year.)