Who's Hot?
Prince Hot 100 List - August '14
by Amelia Thomas, 19 August 2014
As the summer months wrap up and students begin to prepare for the academic year, many players are turning up the heat to squeeze a final few tournaments out of the summer. We recognize some of their performances in this month's Prince Hot 100 Lists.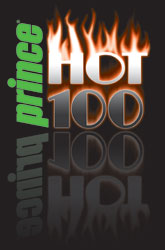 The Prince Hot 100 lists are published each month, and the August Hot 100 lists feature the one hundred boys and girls who most improved their rankings during the month of July. You can find out more about the Prince Hot 100 - and how the lists are calculated - by reading here.
The latest lists, published last week, are available here:
Let's check out a few of these top performers...
Roundup
Lauren Hambrock (Terre Haute, Ind.)
Rising junior Lauren Hambrock recently made a big decision that tremendously impacted her game. She started playing tennis and basketball at a young age and have always divided her time up among the two. She was All State in basketball last year.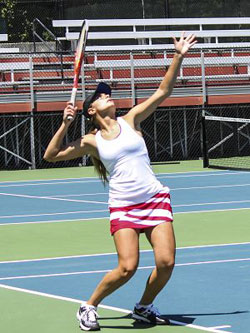 Recently, however, she decide to devote her time solely to tennis, as she intends on playing in college. "During basketball season, which is October through March, I would hit once a week and would not be able to play any tournaments," Hambrock said. "Realizing I could not do this and compete with great players, I made the decision to narrow my focus."
This was Hambrock's first summer focusing just on tennis. She believes this, following an impressive high school tennis season last spring, is what led to her recent improvement.
"I had just finished a strong high school tennis season, in which I was able to qualify for the state finals in singles, and that gave me some confidence for my summer tournaments," she said. "I think both of these were key components to my improvement."
Currently, Hambrock and her coach, Mike O'Connell of the Indiana University Tennis Center, are working on improving her serve and volleys. "I would like to make my serve more of a weapon, and be more comfortable with coming in and cutting off a ball instead of hitting a groundstroke," she said.
Hambrock named her best win of late as a match against four-star freshman Chrissy Fuller. She encountered her in the consolation quarterfinals of the CITA District Qualifier.
"Due to rain, the match was moved indoors, and it was extremely hot and humid," Hambrock said. "She is a strong player and we had some very good points." She defeated Fuller, 7-6(5); 6-3.
Hambrock then went on to win five consecutive tournaments over the course of the summer. She now has the Chris Gassman Memorial Open, Thyssenkrupp Presta Wabash Valley Open, South Central Indiana Hard Courts, Old National Bank Classic, and J.D. Sinnock Junior Open titles under her belt.
Tennis isn't Hambrock's only claim to fame. She highly prioritizes school as well. She has a 3.9 GPA and is ranked in the top five percent of her class.
Hambrock's parents, Mike and Kim Hambrock, are players themselves and support their daughter's growth. "Lauren realizes the importance of tennis as a lifetime sport," they said.