Championship Week
CiCi Bellis Defeats Black to Claim 18s
by Rhiannon Potkey, 15 August 2014
Before even stepping onto the court at the USTA Girls' 18s National Championships, CiCi Bellis had her trip booked to the U.S. Open.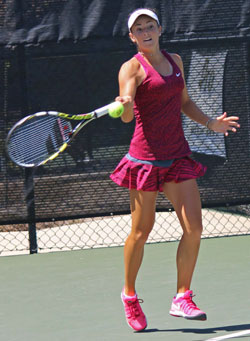 Girls' 18 Champion
CiCi Bellis
courtesy, Girls' 18 Nationals
But Bellis wanted an upgrade in her playing status in New York.
Instead of just playing against the juniors, the 15-year-old from Atherton, Calif., wanted a shot at the professionals.
Bellis earned that chance by capturing the hardcourt title at the Barnes Tennis Center in San Diego.
The second-seeded Bellis defeated fifth-seeded Tornado Alicia Black 6-3, 6-1 in the final to earn a coveted wild card into the main draw of women's singles at the U.S. Open.
"It's unbelievable. It's been my dream since I was a little kid to play in that event there," Bellis said. "The fact I will be doing that in just a few weeks is crazy. I never thought about getting it this year."
The day before Bellis secured her title in San Diego, Kylie McKenzie earned a trip to New York by winning the Girls' 16s singles.
The ninth-seeded McKenzie of Anthem, Ariz., upset second-seeded Kayla Day of Santa Barbara, Calif., 6-1 ,6-4 in the final.
Bellis and Black each survived three-set semifinals to reach the final with Black defeating top-seeded Louisa Chirico of Harrison, N.Y., 6-0, 4-6, 6-4.
Bellis had to overcome a slow start to beat Black in the final. She trailed 3-0 in the first set before hitting her stride in resounding fashion.