Championship Week
Rubin Collects Two Titles, Two Wild Cards
by
Colette Lewis
, 15 August 2014
Noah Rubin's summer went from great to extraordinary in the just over a month. In July, the 18-year-old New Yorker won the Wimbledon boys title as an unseeded qualifier. Last week he trumped that with two titles at Kalamazoo, defeating defending champion Collin Altamirano 6-4, 6-4, 6-3 in the singles final, after joining with Stefan Kozlov to take the doubles championships, and in the process earning two US Open main draw wild cards.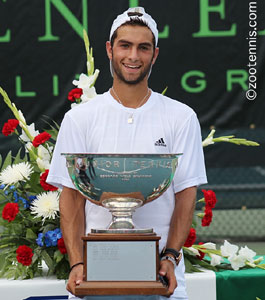 The depth and strength of the Kalamazoo 18s field was the best in years, with three players having ATP rankings of 550 or better and four others in the ITF world junior rankings Top 20.
Yet by the quarterfinals, the top eight seeds had survived, the first time that had happened at Kalamazoo since 1976, when Larry Gottfried defeated John McEnroe for the title.
The expected advances stopped there however, with the top two seeds failing to make the semifinals. No. 1 Jared Donaldson was leading No. 5 seed Altamirano 4-2 in the first set of their rematch of the 2013 final when he retired with an abdominal injury, while No. 7 seed Michael Mmoh took out No. 2 seed Ernesto Escobedo 7-5, 7-5.
In the semifinals, Altamirano dominated No. 4 seed Stefan Kozlov 6-4, 6-2, but Rubin was in deep trouble against the 16-year-old Mmoh, seeing a 5-1 lead melt away in the third set and facing two break points serving at 5-5, before claiming a 7-6(1), 2-6, 7-5 win.
Rubin held for 6-5, then in the next game Mmoh earned a game point to take it to a third-set tiebreaker. Mmoh hit a huge first serve, but Rubin rocketed the return back with even more pace, and Mmoh's startled reply was wide. Mmoh missed a volley on the next point, but saved a first match point with a forehand winner. After Rubin earned match point number two with a forcing forehand of his own, Mmoh began to cramp, and he double faulted to end the nearly three-hour match.
Winning that eleventh game provided Rubin with the confidence he needed.
"I had to keep grinding out there," said Rubin, who had lost in the semifinals in both 2012 and 2013. "I finally got my game and I knew after that I had a good chance."
With less than 24 hours before the best-of-five singles final, and a doubles final to play in between, Rubin seemed unfazed by the prospect. He showed no sign of fatigue in the championship match Sunday, although he did admit an adjustment in strategy was necessary.