Commitment Profile
Fall Signing Week '14: Francesca DiLorenzo Chooses Ohio State
by Lisa Stone, 12 November 2014
Special from
Parenting Aces
Talking with 2015 top female recruit Francesca (Fran) DiLorenzo, I had to keep reminding myself that she's only a senior in high school. This feisty, poised, well-spoken young woman has a wisdom well beyond her 17 years. The Ohio State University women's tennis team is getting quite a gem next Fall.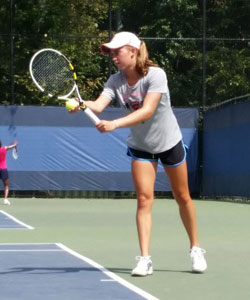 DiLorenzo grew up half an hour from the Ohio State campus where her brother is now a senior (but not a tennis player; DiLorenzo says, "He's just a student!") As a kid, DiLorenzo went to all the Ohio State football games and is a huge fan of the team, so committing to play tennis as a Buckeye feels exactly right.
DiLorenzo says her parents were very supportive during her recruiting process and really left the decision up to her. She knew they wanted her to stay close so they would be able to attend her college matches, but she also knew they would be supportive of whichever school she chose.
To be sure she had all the information she needed, DiLorenzo also took close looks at the University of Virginia and UCLA. Her unofficial visits junior year to both UVA and Ohio State convinced her that staying a bit closer to home was the best choice for her: "After visiting Ohio State, I just knew it was the right place for me, and I knew I wanted to go there. For me, the most important thing when choosing a school was the coaches and their coaching style - and seeing that I could work with them and keep improving."
DiLorenzo said her junior coach, who has worked with her since she first started playing competitively, played a big role during the recruiting process and was a definite factor in her decision to choose a school close to home. Ann Grossman-Wunderlich (one of the original group of players at Nick Bollettieri's academy in Florida) has been a major influence on DiLorenzo, both on and off the tennis court. Grossman's main message to DiLorenzo has always been to keep her focus on the bigger picture. Yes, success in the juniors is important, but if the goal is to play professionally, then each match DiLorenzo plays is viewed as a learning experience and a chance to get better as a player. Grossman said, "I'll be able to watch her matches and keep developing her as a player. I want her to keep developing and keep pushing to get better every day - and not to be satisfied until she reaches her goal of playing professionally."