Recruiting Feature
Fall Signing Week '14: National Roundup
by Dallas Oliver, 11 November 2014
Signing Week is underway, and tomorrow, senior tennis players will begin signing their National Letters of Intent with Division I and Division II schools. We have been tracking verbal commitments for several months (boys, girls), and throughout the remainder of the week, we will be featuring live commitment announcements from a number of highly-recruited boys and girls.
Today, we hear from seniors around the nation in a pair of National Roundup articles. We recently talked with a number of seniors who plan to sign NLIs during the Fall signing period, which officially begins tomorrow. We asked them about their college choices - and how they reached their decisions.
Here are the seniors we talked with:
Take a look at what they had to say...
Katie Ta (Mission Viejo, Calif.) to Brown
The Ivy League is rich in both athletic and academic tradition, and its tennis programs are usually able to attract impressive recruits who are elite both as students and as tennis players. Five-star senior Katie Ta is one such student-athlete. In the classroom, Ta maintains a 4.55 GPA while taking more than a dozen AP and IB classes, and she has consistently been ranked among the Top 50 players in the Class of 2015 for the past two years. Next year, Ta will take those impressive credentials to Providence, R.I., to compete for the Brown Bears.
Congratulations! What were the main factors that went into your decision? What do you like about Brown?
I primarily considered the tennis program, academic curriculum, and campus life. The schools I considered all had elite academic programs, so it mainly came down to the school and campus life. Brown is very undergrad-focused, and it has a campus life where I can see myself fitting in.
I really like Brown's open curriculum because it will allow me to explore other disciplines outside of my preferred concentration [computer science]. I also feel like the open curriculum creates a unique academic atmosphere for its students - since the students get to choose which classes to take. I realized after my visits that Brown was the best fit for me.
How many visits did you make to narrow things down?
During a week this past April, I took unofficial visits to Yale, Princeton, Brown and Columbia - and I did official visits to Brown and Columbia in September. My unofficial visits seemed a bit rushed since I was visiting multiple schools in one week, so I think got a better sense of the schools on my official visits.
At Brown, I sat in on a few classes, watched them practice, and hung out with the girls over the weekend. I just fell in love with the Brown campus. I loved how everyone I met - even people not on the team - was so friendly and welcoming.
Talk about the Brown coaches. What interactions did you have with them?
Coach Wardlaw has a great, organized program. He is supportive of the girls not just in tennis but also in school - which really means a lot to me.
The assistant coach, Bianca [Aboubakare], is awesome. She's from Southern California, so we have a lot in common - she really feels like an older sister to me. Bianca went to Brown as well, so I know she'll be a good mentor to have around.
They both are so easy to talk to, and they really made me feel a part of the team. Coach Paul contacted me early during my junior year and he first watched me play at Hard Courts last summer.
I had regular contact with Bianca as well. She came to watch me train at Woodbridge Tennis Center and made an effort to watch me play at various tournaments in California, Arizona, and Memphis. It can be pretty nerve-racking competing in front of coaches, but I didn't feel like that with the Brown coaching staff.
Do you have goals or expectations for your freshman year?
I am really looking forward to playing collegiate tennis - and to working with Coach Paul and Coach Bianca. One of my goals is to be able to contribute to the team so Brown can be a strong contender in winning the Ivy League. Since I have lived in Southern California all my life, I am also excited about having that East Coast experience at Brown.
Jordan Benjamin (Fairport, N.Y.) to Dayton
Five-star senior Jordan Benjamin has seen his game and his ranking steadily improve over the years. The sixteen-year-old senior posted a whopping 13 combined wins at the USTA Clay Court and Hard Court Championships this past summer, and his ranking among seniors has climbed to a career-high No. 30. Next year, Benjamin heads to the state of Ohio - to attend and compete for the Dayton Flyers.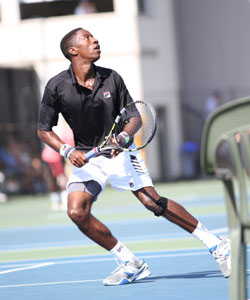 Congratulations on your decision to attend Dayton. How does it match up with what were you looking for?
My parents and I had five criteria that we were considering - a strong academic school, student-athlete scholarship opportunity, a solid Division I tennis program, location and school size.
I really enjoyed the beauty of the campus at Dayton - and also the size of the school. Coming from a small high school, I feel that Dayton's size shouldn't be a big issue.
I also liked the support systems that are available for student athletes. The engineering program has a lot of people and resources that can help within the field, and that was important to me. The team also has an academic advisor who cares about each student and wants to see each athlete succeed. Almost the entire student body lives on campus - which I think is pretty cool.
What do you like about the coaching staff? What kinds of interactions have you had with them?
I really like that Coach Meyer cares about everyone on the team. He wants each student athlete to succeed on the court - but especially off the court. His philosophy was academic first, and he wants Dayton to be a place where I can get my degree and also play a high level of tennis. He also made it possible for me to see the entire engineering building with the Dean of Engineering.
[Coach Meyer] and I went to dinner the first night doing a 'clutch late night Chipotle run'. We had breakfast the next day at the hotel and did a very nice tour around the campus. My dad arrived on the second day - he got to meet and talk with Coach Meyer in person, and the three of us had a nice lunch. The next morning we went to breakfast, and then Coach Meyer took me to the airport.
What was the team like?
I got to meet my future teammates, and I was able to observe a practice. I really liked that they all got along even though they are all from different communities. They seemed liked they had all known each other forever. The freshmen really showed me what it's like to be a new student on campus.
I also really enjoy that the men's team and women's team bonded extremely well and do almost everything together. It was impressive, and I could see myself in that community.
Do you have any goals once you arrive on campus?
I look forward to being an impact player, helping the team win more matches and bringing more energy to the team. I am all about being intense and focused. I am ready to join the team and make an appearance at the NCAA tournament.
Darian Defrench (Cartersville, Ga.) to Belmont Abbey
Darian Defrench is young for being a senior, having just turned 17 earlier this fall. But age has not stopped her from playing No. 1 singles for Cartersville High School - a position she has played since her freshman season. Next year she plans to drive up I-85 to Belmont, N.C. to play tennis for Belmont Abbey College.
What schools were you considering? How did you narrow things down?
I visited several colleges over the summer and enjoyed meeting and playing with the coaches. My two top choices were Davis & Elkins in Elkins, W.V., with Coach Otis Cutshaw and Belmont Abbey College in Belmont, N.C., with Coach Mike Salomon.
I thought I was going to choose Davis & Elkins before I visited Belmont Abbey. The Abbey was the last college on my visit list this summer. I loved Davis & Elkins and the surrounding area, but it is a ten-hour drive from my home. The Abbey was only four hours away, and Charlotte is a beautiful city. But most importantly I felt I had a connection with Coach Mike.
Fantastic. Tell me more about your connection with the coach.
I like that he is younger - and that he is excited about tennis like I am. It was easy for us to make a connection. He let me know that he was given free reign over the program and would be starting from scratch with new girls the year that I would be coming. He was just really excited about the prospect of me coming to play for him - and that made me excited about my choice.
[Coach Salomon] met my family and I early on the day we arrived for our visit, and he took us on a personal tour of the campus before we had our official tour. He wanted to make sure I saw the student side and not just the "by the book" tour. We then had lunch at the country club and talked about what was important to me - and what he would expect from me. Later that day we played an hour of tennis together, and he was impressed with my game. I even aced him one time - which felt pretty good. (Laughs)
What do you like most about the school?
The campus is gorgeous, and it is a faith-based school. I wanted that more than anything. My faith is very important to me, and I wanted to find a school that has the same core values that I have. Also, it is only ten minutes from the city of Charlotte - but it felt like it was in the mountains while being close enough to everything to make it exciting.
Is there anything else you would like to mention?
I would like to say how thankful I am that I used the NCSA athletic recruiting website in finding the right fit for me in my tennis and college career. I would not have found - or been recruited by - as many colleges as I was without their help.
Colin Harvey (Lake Forest, Ill.) to Michigan State
Four-star senior Colin Harvey is from the heart of Big Ten Country in Illinois, and he has always wanted to compete in the Big Ten Conference. "I was primarily interested in Michigan State, Minnesota, and University of Wisconsin," said the 6'0" right-hander. The former Illinois state doubles champion will fulfill his dream next year - when he suits up for the Michigan State Spartans.
Congratulations on your decision to attend Michigan State. What were the primary factors that went into your decision?
I would say the location, the dorms, and the bond between the guys on the team and the coaches.
Interesting. How did MSU meet those criteria - particulary the but about the dorms?
I truly love how close the team is and how our coaches and players are so close. I also love how our school is supported so well by East Lansing - our sports are important to the community, so we strive to give them the best.
As for the dorms, I love that the dorms where the athletes live is so close to the athlete-only centers - which include your weight room, tutoring, and athletic training offices.
What do you think of the coaching staff?
The coaching staff is unbelievable. Coach Orlando is such a great person - he has so much knowledge of the game, and he is such a motivating person. He cares so deeply about his players, like no other coach. Coach Hume, he is an all around great man. Fastest man I know - he does the workouts with the players as well as Coach O! Both of these men give so much of their time to making our program better - and they are amazing at what they do.
I think they have done a great job of setting things up at MSU. Coach Orlando and Coach Hume are very organized people, so everything that our "family" does together is for a purpose and a distinct reason. By doing so, it creates an extremely close and happy environment.
You mentioned that the team is very close. Can you talk more about that?
I have known some teammates before joining the team! The ones I have met are changing my life and will be brothers in my life forever. Every time I see them we grow closer and closer. There is not a time where I would ever want to change our team.