Tournament Preview
Eddie Herr Preview 12s, 14s, 16s
by
Colette Lewis
, 28 November 2014
As professional tennis winds down, junior competition heats up in Florida, with the Eddie Herr International kicking off a busy month of December for junior tennis players. As hundreds of competitors head to the IMG Academy in Bradenton, Florida, here's a look at who might shine next week in one of the world's biggest junior tennis events.
Boys 12s
2013 final: Adam Neff (USA) def. Adrian Andreev (BUL) 6-3, 1-6, 6-3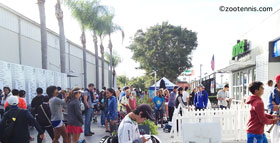 Hundreds of junior players and their parents will be at IMG Academy next week
©
ZooTennis.com
The US has always has a strong presence in the youngest age division and this year the 12s field again includes the Khan brothers, who dominated the USTA Nationals this past summer.
Zane
and
Faris
met in final of both the
Clay Courts
and the
National Hard Courts
, with Zane coming away with three-set wins both times. Other US boys looking to join the Khans in the late stages of the tournament, all in the Top 10 of the USTA rankings, are
Nicholas Garcia
,
Spencer Brachman
,
Billy Suarez
,
Benjamin Kittay
,
Noah Gampel
and
Toby Kodat
.
Two players from Poland, Dawid Taczala and Mikolaj Lorens, have had consistent success in European competition, and Viktor Jovic of Serbia, who won the prestigious Open Super 12 Auray in France last spring, is aiming for his country's first 12s title at the Eddie Herr.
Girls 12s
2013 final: Anastasia Potapova (RUS) def. Tyra Hurricane Black (USA) 4-3, ret.
Japan's Himari Sato could be the player to beat in the girls 12s, with an 18-0 record in that division while going 26-6 in the 14s, all in European competition.
Russia never wants for contenders and this year Daria Frayman, the girls champion in Auray, and Ekaterina Vinnik, who has three titles in Europe this year, join Alina Charaeva as the most likely to follow in Potapova's footsteps.
Luisa Meyer auf de Heide of Germany has played primarily 14s in Europe this year, but she is returning to 12s for the Eddie Herr. She reached the quarterfinals of the Nike Junior Tour Masters in the 12s last year.
For the US girls, Whitney Osuigwe returns after reaching the Eddie Herr quarterfinals last year, and Victoria Hu, the Clay Courts finalist, is also likely to be a top seed.
Gabriella Price, Gianna Pielet, Nina Gulbransen and Charlotte Owensby are other Americans with a chance to contend.
Boys 14s
2013 final: Miomir Kecmanovic (SRB) def. Patrick Kypson (USA) 6-2, 6-1
USTA No. 1 Keenan Mayo leads the American contenders, with ITF Junior Tennis 14-and-under teammates Steven Sun and Roscoe Bellamy also strengthening the home country's presence in the draw. Christian Alshon, a semifinalist at both the USTA Clay Courts and Hard Courts, and William Woodall, the 14s National champion, will look to add to their international experience, while last year's 12s champion, Adam Neff, is aiming for rare back-to-back championships. Brian Shi, who has played mostly ITF events and has had enough success to earn an ITF junior ranking of 586, has received a wild card and is another American to watch.
Hoping to add a second straight title for Serbia is Marko Miladinovic, who is among the Top 10 in Europe, as is Egor Noskin of Russia, fresh off a 16s title in Russia. As in the 12s, Poland has a strong pair in Tomasz Dudek and Daniel Michalski, ranked 10 and 11 in the Tennis Europe 14s rankings. Karlo Suevich of Croatia is another player who, after a successful summer on European clay, is looking to add to his résumé on hard courts.
South America will provide a couple of contenders in 2013 quarterfinalist Nicolas Mejia of Colombia and Sebastian Baez of Argentina, who has five titles in Europe and South America competition this year.
Although just 13, Chun-Hsin Tseng of China has already earned an ITF 18-and-under ranking, picking up seven wins in just two tournaments played.
Girls 14s
2013 final: Sofia Sewing (USA) def. Olesia Pervushina (RUS) 6-3, 6-4
The girls 14s has so many serious contenders it's difficult to know where to start. The Russians are as good a place as any, with 2013 finalist Pervushina returning to that age group despite an ITF 18-and-under ranking of 116, although she is also entered in the ITF qualifying. Despite being only 13, Anastasia Potapova, last year's 12s champion, has already led her team to the ITF World Junior Tennis championship, playing No. 1 singles ahead of Pervushina, and is the European 14s champion. Another 13-year-old Russian, Ekaterina Makarova, who reached the semifinals in the 12s last year and was a finalist at the Nike Junior Tour Masters, should also go deep in the draw.
Olga Danilovic of Serbia and Ania Hertel of Poland are also among Europe's best.