College Feature
Conversation with Former Arkansas Standout Aleksey Bubis
by
Harry Cicma
, 3 February 2015
Follow Harry on
Twitter
Aleksey Bubis was a top junior tennis player from Palm Harbor, Florida, in the late 1990s - making the rounds on the USTA Junior National Circuit. Bubis went on to play college tennis at the University of Arkansas, where he starred from 1999 to 2003 - still appearing the the Razorback Record Book for his 28-10 mark during the 2000-01 season.
Harry Cicma of NBC Sports recently got the chance to catch up with Bubis at a tennis event.
Questions and Answers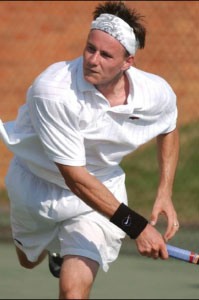 Harry Cicma (HC): What did you enjoy the most about playing tennis at Arkansas?
Aleksey Bubis (AB): I am grateful for the friendship of my team. It was also a great honor to represent the University of Arkansas - and I learned to be a team player.
HC: What are you involved with now since graduating?
AB: I am coaching tennis under my own business - Serious Tennis Behavior. I really enjoy improving everyone's ability to play better tennis and compete at any level the aspire to - and helping them reach their full potential.
HC: Coming from Florida, you excelled nationally in the Juniors and in College... how did the Florida environment help you on and off the courts?
AB: Having the ability to play tournaments every weekend against good players was very beneficial. Also, the weather allows you to practice all year round with the opportunity to play through really hot and humid weather most of the year - in turn making you a fitter and more mentally strong competitor.
HC: What advice would you give to a young player looking to play pro or college tennis?
AB: Focus on your strokes and footwork! Technical aspects of the game are extremely important in order to get to the next level. Without really good strokes and footwork, you can only get so far in the game. Make sure you are learning the same technical elements of the game the best players in the world are - and using the variety of footwork they rely on.
About K-Swiss
College Content at TennisRecruiting.net is sponsored by K-Swiss.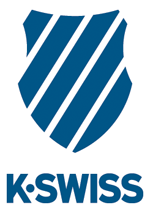 At K-Swiss we are 100% invested in the sport of Tennis and committed to helping players play their very best and win at every level. From a competitive junior or adult player to the greatest doubles team of all-time, Mike and Bob Bryan. For over 50 years we have been making some of the most innovative, high quality tennis footwear in the game featuring the very best in comfort with a consistent fit.
We encourage you to try the K-Swiss shoe that is best for your game.
Connect with K-Swiss on Facebook, Twitter, and YouTube - or on their website.
Leave a Comment
More College Coverage
8-Oct-2019
Wyoming's Clower Hasn't Let MS Impact His Coaching Climb
Wyoming women's coach Dean Clower was diagnosed with multiple sclerosis at age 23. But Clower never let it hinder his dreams. He credits two coaches for saving his life and keeping him motivated to excel in the profession.
24-Sep-2019
Bailey Finds Another Head Coaching Opportunity at Charlotte
Kyle Bailey was waiting for another chance to become a head coach. He saw a great opportunity for growth at Charlotte, and took over the men's program earlier this month. The former South Carolina assistant has relied on key mentors to help him reach his goals.
10-Sep-2019
Backed By Players, Whitlinger Promoted to Furman Head Coach
The Furman men's players wrote emails and met with administrators championing the promotion of J.J. Whitlinger to head coach of the program. The support helped boost Whitlinger's spirits during the long coaching search process, which ended with him getting his first chance to be a head coach.
About Harry Cicma
When it comes to college tennis, Harry Cicma is your man. Cicma covers tennis and other athletic stories for
NBC Sports
, writing articles and producing video segments.
He is co-founder and host of World Tennis a weekly tennis show on NESN, and host of of Tennis Live Radio's College Corner.
Cicma competed as a junior in USTA/New England and went on to play college tennis at Rutgers University. As a professional, Cicma competed at the ATP Newport tournament and the San Jose Siebel Open. He reached a career-high #75 in the ATP doubles team rankings and #1262 in the ATP Entry System.
In media, Cicma has run the gamut. He has worked for NBC, CBS, ABC, ESPN, FOX Sports Net, the Tennis Channel, and World Team Tennis. Cicma has announced NCAA sports as well as the US Open Tennis Championships on both TV and radio.