Special Feature
Talking with Michael Joyce - Part 1
by
Colette Lewis
, 27 February 2015
Michael Joyce is best known to tennis fans now as the former coach of five-time slam champion Maria Sharapova. Prior to his coaching stint with Sharapova however, the 42-year-old Southern Californian had his own distinguished career, winning the USTA Boys 18s Nationals in 1991 and reaching an ATP career-high ranking of 64 five years later.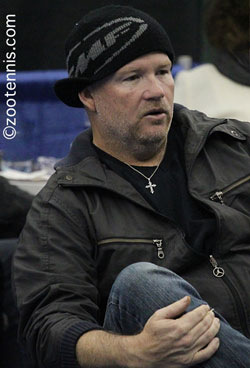 Michael Joyce at the Dow Corning Tennis Classic
©
ZooTennis
As injuries and family concerns brought his professional career to a close in 2003, Joyce began hitting with the Russian teenager when she visited Robert Lansdorp, the legendary Southern California coach who also gave Joyce lessons as a junior. Sharapova's father Yuri suggested Joyce begin travelling with them to tournaments, and eventually they began their collaboration.
The two parted ways in 2011, and later that year Joyce began coaching Jessica Pegula, then 17. Although Pegula is just now returning to competition after more than a year away due to a knee injury, she and Joyce continued working together throughout her rehabilitation. Last year, Joyce and Pegula moved to Charleston, South Carolina, where he is now the Director of Pro Tennis at the MWTennis Academy at the Family Circle Tennis Center.
Pegula and Joyce traveled to Midland, Michigan earlier this month for the $100,000 Dow Corning Tennis Classic, giving me an opportunity to speak to him about his years with Sharapova, his coaching philosophy, his current position in Charleston, the state of American tennis and his evolving view of David Foster Wallace's famous Esquire magazine article about him.
Questions and Answers
Colette Lewis (CL): How did you get your start in coaching?
Michael Joyce (MJ): It was a weird situation. I was still playing, in my late 20s, and I had a bad injury to my wrist. I was coming back, I was doing ok, and then my mom got really sick, she had cancer, so I decided to take six months off. During that time in LA, I needed to make some money, so I actually started to hit with Alexandra Stevenson, a couple hours a day, and then I'd hit with Maria [Sharapova].
Alexandra was having shoulder problems, so the five or six months I was with her, she was always injured, which made it tough. That led to her shoulder operation and Maria kept approaching me all the time, wanted me to be with her, and so I started to travel with Maria, and right off the bat it worked really well.
I was working with someone new, I was still pretty young, playing really well, and they [Sharapova's family] liked the fact I could hit really well. I also knew the philosophy she grew up with because I worked with Robert and I knew her strokes. So little by little I got more of a coaching role with her as time went by. I was paid as a coach, and I actually wanted ten percent, that was what Stevenson was giving me, except she couldn't get through a match or two. It was five percent with Maria, but my parents were like, you should do it, because if she does well, if you want to go into coaching, it's going to look good for you. And in a few months I had made more than I had in two years.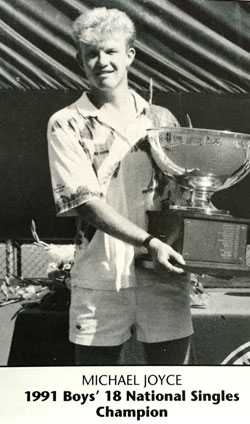 Then I think they started to gain more confidence in me, I'd see girls she was playing, find patterns. That turned into an almost seven year relationship. I didn't really expect that - we both started succeeding together - so it kind of helped me and I was obviously pretty good at it, so that's how I got into it.
I always thought I would stay in tennis one way or another, but I didn't expect that I was going to be a woman's coach, or win grand slams with Maria.
CL: Do you miss being at the highest level of the game now?
MJ: At first, when Maria and I stopped [working together], I was almost relieved in a way. I love Maria and I think she's a fantastic competitor and I love working with her. The pressure is very high. You go into a grand slam and if you don't come out winning you feel bad. This last Australian Open, I think she did fantastic, I think it's the best that she's looked playing-wise in three or four years. But she still came out of there losing. And that still hurts a little bit. As a coach, that's tough sometimes. The highs become kind of normal and the lows can be pretty low. When I finished with Maria, I was done traveling. I got a lot of offers that I thought about but I didn't want to be one of these coaches that jump from one to another.