NCAA Feature
Vanderbilt Women and Virginia Men Claim NCAA Team Titles
by
Colette Lewis
, 22 May 2015
The Vanderbilt women had reached the NCAA Division I Team Championships only once before in the program's history, while the Virginia men had been to the championship match four of the previous five years. Yet the disparity in experience made no difference in the outcomes, with No. 4 seed Vanderbilt defeating defending champion UCLA 4-2 and No. 3 seed Virginia taking down top seed Oklahoma 4-1 at the Hurd Tennis Center at Baylor University.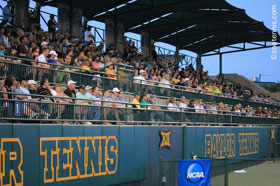 The tournament was plagued by rain, or the threat of rain, throughout its six-day span. Needing an additional six indoor courts, the committee turned to SMU's new Brookshire Family Pavilion courts two hours north of Waco, with one men's match and two women's matches played there, while others were moved to the Hawkins Indoor Tennis Center on the Baylor campus.
The semifinals and finals did manage to be played entirely outdoors with only one evening stoppage for lightning. On an oppressively hot and humid day, three Big 12 teams were in action in the men's semifinals, with No. 5 seed TCU taking on conference rival Oklahoma and No. 2 seed Baylor facing Virginia.
Both matches were tense and emotionally draining, with Virginia silencing the vociferous Baylor crowd to post a 4-2 victory, and Oklahoma outlasting TCU 4-3, both in just under four hours.
With less than 24 hours of recovery time, both teams were fortunate that the weather was much cooler, although breezy, for the final.
Virginia started out looking fresh and sharp, capturing the doubles point, with Luca Corinteli and Ryan Shane beating Andrew Harris and Alex Ghilea 8-4 at line 1. Cavaliers Thai Kwiatkowski and Mac Styslinger held on to their early break against Dane Webb and Spencer Papa for an 8-5 victory at line 2, and while their match point was in progress, Collin Altamirano and JC Aragone broke Axel Alvarez and Jose Salazar to win at line 3 by the same score, giving Virginia a rare three wins in the doubles competition.
Virginia coach Brian Boland knew better than to take any confidence from that early lead, as the Cavaliers had taken the doubles point in their meeting with Oklahoma back in March, but lost the match 4-3.
"I think 11 times they've lost the doubles point," said Boland, although Oklahoma had actually lost it 14 times, yet dropped only three of those matches, including this one. "They've learned to deal with it when they go down the doubles point, so we were certainly focused on getting off to a great start."