Who's Hot?
Prince Hot 100 List - July '15
by Amelia Thomas, 28 July 2015
With climbing temperatures, it's difficult not to give in to the beckoning temptations of the pool or air conditioning. Many junior players, however, are taking advantage of their summer vacations to turn up the heat in tune with the scalding temperatures. We caught up with a few players who had strong performances in this month's Prince Hot 100 Lists.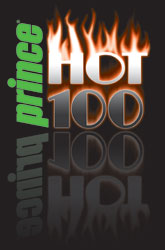 The Prince Hot 100 lists are published each month, and the July Hot 100 lists feature the one hundred boys and girls who most improved their rankings during the month of June. You can find out more about the Prince Hot 100 - and how the lists are calculated - by reading here.
The latest lists, published last week, are available here:
Let's take a look at some of these top performers...
Roundup
Conor Somers (Virginia Beach, Va.)
Four-star rising senior Conor Somers came to tennis by chance. His neighbor, a tennis coach, saw him hitting against his garage door at a young age and offered him a lesson. This chance encounter has not lessened Somers's passion for the sport. "I have loved it ever since," he said.
Somers now works with Ryan and Julie Davison of the
Virginia Beach Tennis Country Club
and Dan McCain of the
Cavalier Golf and Yacht Club
.
The Virginia Beach native credits his recent improvement to intense training over the summer. "I have started a weight lifting routine with my trainer," he said. "Also, I run one or two miles every other day. I shoot for an under six-minute mile."
Somers describes his style of play as an all-court game, with strengths in his forehand, hands at the net and mental toughness.
His parents, John and Stephanie Somers, believe his intense conditioning has given him new strengths. "Conor loves the fast-paced excitement of tennis. One of his strengths is his speed and endurance, so he rises to the occasion to get to every ball," they said.
The five-foot-nine player put his new skills to use in what he described as his best match of June. He met four-star junior Jack Tascher in the round of 16 of the USTA MAS Championship. A top 10 Mid Atlantic player, Tascher held a 3-0 record against Somers at the time of their match.
"I overcame cramping and a third set deficit (2-4) to come back and triumph," Somers said. "I ended the match with a serve and volley winner. It was a big mental win." Battling back after a loss in the quarterfinals, Somers went on to win the consolation draw of this tournament.
Somers carried this success throughout the rest of the month, also becoming the champion of a Mid-Atlantic Challenger. He earned an 8-1 record for June and catapulted up nearly 50 spots on the Head Class Rankings List.
Somers doesn't plan to end his success here. He is currently working on several aspects of his game to prepare for play in Florida.
"I am working on smooth racquet flow on my one hander, footwork patterns for my forehand, and a high first serve percentage - especially in preparation for Clay Courts in DelRay," he said.