NCAA Feature
Talking with ITA Rookie of the Year Noah Rubin
by
Colette Lewis
, 17 June 2015
Wake Forest freshman Noah Rubin was determined to experience college tennis, even after capturing the Wimbledon boys title and 18s National title in Kalamazoo prior to starting classes last fall.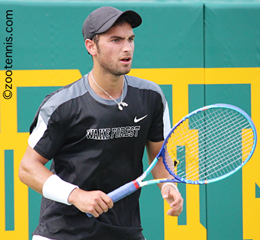 Although he concentrated on pro tournaments during his first months in Winston-Salem, Rubin was ready for the dual match season, only to suffer a wrist injury that kept him out of competition for nearly a month. Once the 19-year-old New Yorker returned to competition, he ascended quickly in the Intercollegiate Tennis Association rankings, finishing the year 26-4 in singles and 16-6 in doubles. Named both ACC Freshman and Player of the Year, Rubin led the Demon Deacons to the NCAA Division I Final site in Waco, Texas and went on to reach the
singles final
, falling to Ryan Shane of
Virginia
in three sets. During the NCAAs, he received the ITA's Rookie of the Year award, and finished the season ranked No. 5 nationally.
Rubin, who cites his father Eric and Lawrence Kleger at the John McEnroe Academy as his primary coaches, will train at the New York academy this summer.
Earlier this month, Rubin announced that he would be leaving Wake Forest to focus on a professional career. I spoke to him at length at last month's NCAAs prior to that decision, and then again briefly by phone after his announcement.
Questions and Answers
Colette Lewis (CL): Were there adjustments necessary when you started at Wake Forest?
Noah Rubin (NR): Fall was a new experience. I played four Challengers during that time and did a lot of training. Starting out with a team again was interesting. I hadn't been on a team since soccer five or six years ago. So I've enjoyed it. I really liked the staff at Wake Forest, enjoyed a lot of aspects of it.