Clay Court Championship Week
William Grant Takes Control of Boys 14s
by Todd Holcomb, 22 July 2015
Will Grant was the No. 7 seed seeking his first singles national title, but the Santa Barbara, Calif., teenager didn't doubt he could get it done last week at the USTA Boys 14 Clay Court Championships in Fort Lauderdale, Fla.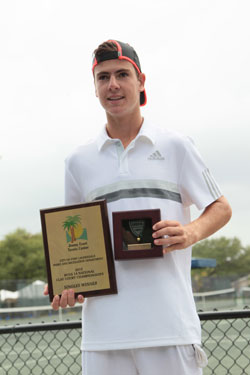 Grant won three three-set matches and beat two higher-seeded players - including No. 4
JT Brooksby
of Carmichael, Calif., 7-6 (2), 6-3 in the final - to win the title at the Jimmy Evert Tennis Center.
"I went in definitely wanting the gold ball," Grant said. "I had a lot of experience playing ITFs lately, so that was the goal - to get the gold. I knew that I could do it."
Grant had won team and doubles gold balls in the past year, but never a singles national title, but he felt he was ready.
While training in Spain in recent months, Grant made the semifinals and quarterfinals of ITF tournaments in Botswana and Aruba. His ITF junior ranking is now in the low 700s.
Grant said playing on red clay in Spain was an advantage coming to the USTA clay courts last week. He had several memorable matches along the way.
In the round of 16, Grant survived Connor Nisbet of Wilmington, Del., 6-2, 6-7 (9), 6-2. "Against Connor, I was up pretty easily but had a physical lapse, started getting tired, had a set point, lost it, then went down 2-0 30-love in the third set," Grant said. "I got a couple of cheap points and somehow pulled it out in the end."
Grant then beat third-seeded Cannon Kingsley of Northport, N.Y., 6-2, 1-6, 7-6 (2). "That was also an amazing match," Grant said. "Same thing happened. I was cruising in the first set, got tired," Grant said. "We were about to start the third set and had a four-hour rain delay. So that was pretty good for me. I rested my body and started playing really well."
Grant actually blew a 5-2 lead, had six or seven match points, got broken to trail 6-5, broke back and then won the tiebreaker.
In the final, Grant led Brooksby 7-6, 5-3, 40-15 when the lightning alarm went off during match point, which Grant fortunately won or else there would've been another long delay, perhaps stopping the match for good.
Grant said he thought his "fighting spirit" was the difference in a tournament of several close calls.