Clay Court Championship Week
Riffice Pulls Through to Claim Gold in Boys 18s
by
Gary Curreri
, 24 July 2015
Admittedly, a seven-hour rain delay and a few rounds of pickle ball may have saved Sam Riffice in the boys' 18s final of the USTA National Clay Court Championships at the Boca West Country Club.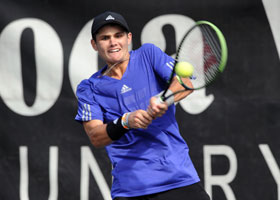 Riffice trailed 5-1 in the first set of the title match against fellow Boca Raton resident
Alexandre Rotsaert
before a downpour forced the competitors off the court. When the pair returned Riffice rallied for a 7-6 (5); 6-3 victory for the first gold ball of his career.
The tournament final was originally slated for an 8:45 a.m. start at the Delray Beach Tennis Center. However, the courts were flooded by an early morning rain and forced the players to move to the Boca West Country Club where Rotsaert took early command.
"I came out and he was all over me," said Riffice, 16, who won both the Eddie Herr International Championships and Orange Bowl 16s last year. "Alex was playing much better tennis than me with his strategy and he was making more shots than me.
"I think the rain delay saved me," Riffice added. "It gave me time to regroup and for him to lose his rhythm a little bit because he was in the zone. But I think the rain really gave me some time to think of a better strategy and to come out more prepared."
The match resumed after a seven-hour delay. Riffice said he took a nap, ate lunch and occupied his time as several of the other competitors did by playing pickle ball on a nearby pickle ball court.
"The pickle ball helped me start off strong," grinned Riffice. "It was a lot of fun. I always liked playing pickle ball and I was a little bit nervous and it definitely helped calm me down and relax a little bit."
Riffice is ranked number one nationally on the Head Recruiting lists in addition to number one in California. He is ranked second on the RPI and number one in the USTA Standing.
Riffice, who had lost in his two previous Super Series events in the Winner Nationals in Boys 12 and in the Clay Court finals in Boys 14s to Noah Makarome, reeled off four straight games when play resumed before pulling out the first-set tiebreaker when his sliced backhand passing shot skimmed the net to handcuff Rotsaert. After rallying in the first set, Riffice felt the tide was turning.