Who's Hot?
Prince Hot 100 List - August '15
by Dallas Oliver, 17 August 2015
Late summer is the time for championships in junior tennis. As summer wraps up, huge tournaments take place at the district, section, and national level before school gets back into gear. With so many big tournaments on the schedule, there is a lot of movement in the rankings. We take a look at some players who had big moments in this month's Prince Hot 100 Lists.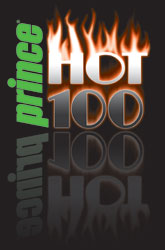 The Prince Hot 100 lists are published each month, and the August Hot 100 lists feature the one hundred boys and girls who most improved their rankings during the month of July. You can find out more about the Prince Hot 100 - and how the lists are calculated - by reading here.
The latest lists, published last week, are available here:
Let's take a look at some of these top performers...
Roundup
Reagan Posorske (Cave Creek, Ariz.)
Four-star junior Reagan Posorske comes from an athletic family.
"My brother, Ben (18), is a wide receiver for Brophy College Prep's varsity football team in Phoenix. My sister, Isabella (11), is a nationally-competitive diver, Grace (13) is a junior golfer, and my youngest brother Will (10) plays tackle football in Pop Warner."
16-year-old Reagan's game is tennis, and she had a great showing over the past month - going deep into the draw in four different tournaments - winning titles in two of them. She started off the month winning a title at the Beverly Golf & Tennis Club Championships, and she then captured the Australian flight title at the Donovan Tennis College Recruiting Tournament. She next reached the North consolation final at the New Balance High School Tennis Championships, and she finished up by reaching the consolation semifinals of the USTA National Warm Up Tournament in California.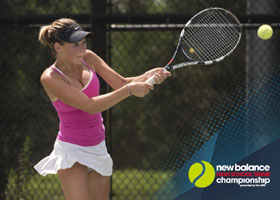 All in all, Posorske finished the month with a 16-4 record - climbing from No. 155 all the way up to No. 119 in the Babolat Class Rankings, solidifying her 4-Star rating for the fall.
Posorske's tennis career has been unusual - to say the least. While the Posorske family lives in Arizona, Reagan attends school at the prestigious Phillips Academy Andover in Massachusetts. Many weeks would involve Posorske attending her rigorous classes during the week, flying from Boston Logan to Phoenix on Friday night and landing at midnight, playing tennis over the weekend, and catching a red-eye back to Boston on Sunday or Monday night to arrive at 5am to return for her 8am classes.
"It was tough to perform well on the court back in Phoenix and in the classroom back in Andover," said Posorske.
But USTA rules prevented her from playing in New England.
"I tried for almost a year to be allowed to play where I lived in Andover," said Posorske. "At my all-time low, I wondered how I could continue to pursue my dream of playing college tennis in my current situation, and thought I would have to choose between attending Andover and tennis. Luckily, the National USTA last month granted me a waiver to play where I live - and I cannot begin to express my gratitude."
Competing locally obviously helped Posorske, but she gives much of the credit to her coaches.
"I train at Manchester Athletic Club (MAC) with Francisco Montoya. Francisco and the other coaches at MAC are always always pushing me and encouraging me to play my hardest. Training with Francisco and his team has made a huge difference in my game - they get much of the credit for how I have been playing."
Posorske's parents, Russ and Jennifer Posorske, are understandably proud of their daughter, and they believe that her diligence and resilience are main reasons behind her success.
"When she was very young, if it was raining, she would go out to the back porch and hit against the side of the house for hours on end," said her father, Russ. "If I wanted to punish her, I would threaten to keep her home from practice. I think that's what distinguishes her from lots of junior players I watch. She absolutely loves all aspects of the game."
Her mother, Jennifer, offers similar thoughts.
"I think what differentiates Reagan from others is how much she understands this tennis is a journey," said her mother. "A bad phase or patch does not define you. She just keeps her head down and keeps working. She figures it out."