Championship Week
Volynets Wins Another Gold Ball in Georgia at 14s
by Todd Holcomb, 12 August 2015
Georgia has been good to California's Katie Volynets.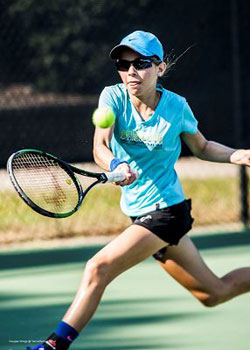 A year ago, the 13-year-old from Walnut Grove won the
USTA Girls 12 National Championships
in Alpharetta, Ga. That was her first national title.
Now, Volynets has won her second gold ball, also in Georgia. She defeated Naomi Cheong of Las Vegas 6-3, 6-1 on Aug. 7 to win the USTA Girls 14 National Championships at Peachtree City Tennis Center.
"I like Georgia a lot," said Volynets, who stands just 5 feet, 1/2 inches. "Winning the second one took a lot of work. I still have more work to do, but this is a step forward."
Volynets had long and difficult matches in the quarterfinals and semifinals - once surviving five match points - before playing perhaps her best tennis of the tournament in the final.
In the quarters, Volynets beat No. 6 seed Reilly Tran of Dunn Loring, Va., 3-6, 7-5, 6-0.
"My start was a little slow, and the girl was being aggressive and I was too much on defense," Volynets said. "But as the match went on, I did a little more offense and started moving a little quicker and recognizing her shots quicker. By the third set, everything became OK."
Then in the semifinals, Volynets beat No. 4 Lea Ma of Dix Hills, N.Y., 4-6, 7-6 (6), 6-2 in what was probably the match of the tournament. Ma had five match points in the second set.
"I had to really focus to get to every ball and make sure to place them properly," Volynets said of the match points against her. "I felt like when I started saving those match points, the momentum started going more my way and I started feeling more energized."
In the final, Volynets played well from start to finish.
"In the morning when I woke up, I was excited for the match," Volynets said. "I felt really good. My mental was better starting the match because I already knew exactly what to do and how to move my legs faster. I knew I needed to play like I did in those third sets from the start."