Commitment Profile
Alex Rybakov Chooses TCU
by
Colette Lewis
, 24 August 2015
Blue chip Alex Rybakov, the No. 1 recruit in the class of 2015, had expected to bypass college and jump directly to the pro tour. But this summer, the 18-year-old Floridian decided to investigate the college route, which led to his selection of TCU as the program best suited to help him prepare for a professional career.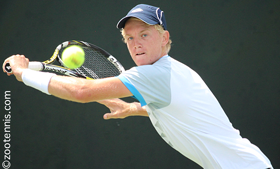 "I don't think school was really my first option, but after looking into it, I think it's definitely a good choice," says Rybakov, who also visited the
University of Florida
and
Wake Forest
in addition to the TCU campus in Fort Worth. "Whether it's one, two, three or four years, it's just getting better and continuing to keep moving forward with my game.
"I liked the other schools too, but just with the coaches and the players, the facilities, the campus, I think TCU would be the best for me out of those schools."
Rybakov, who will join head coach David Roditi's Horned Frogs in January, visited TCU last month.
"I met the athletic director, I actually met the head coach of the football team, which was great, because they're doing so well," says Rybakov, who reached an ITF world junior ranking of 14 early this year and was a quarterfinalist this month at Kalamazoo. "I just went through all the facilities, and they're really great. Everything there is really nice and I really enjoyed being there. I know some of the guys on the team, and to get to know the rest of the guys will be great."
Although the stands were empty when he visited in midsummer, Rybakov is anticipating the atmosphere he'll encounter next spring, with TCU leading men's tennis in attendance for the past three years.
"I personally like playing in front of a lot of people, so that was, maybe not the biggest factor, but definitely a positive," Rybakov says. "It's great to see them doing so well, and I can't wait to be a part of it."
Rybakov's connection to the game started early, with his parents Nick and Galina immersed in the sport while growing up in Russia.
"My family is a tennis family," says Rybakov, who still trains at the Rybakov Tennis Academy in Coral Springs on weekends, when he isn't at the USTA's National Center in Boca Raton. "My dad grew up around [Andrei] Chesnokov, who was Top 10 in the world and my mom also grew up around tennis and was playing at the top of the juniors in Russia."