Where Are They Now?
Spring Signing Week '17: On Serve with Nicole Gibbs
by Dan Johnson, 14 April 2017
In college, Nicole Gibbs made a name for herself with her outstanding on-court accomplishments.
Stanford
saw Gibbs take home two NCAA national singles championships (
2012
,
2013
), one doubles championship (2012) and help guide the Cardinal to the
2013 NCAA National Championship
.
Today, Gibbs is carving out a nice career on the Women's Tennis Association (WTA) Tour, while at the same time, elevating her personal profile by deftly using social media to speak out on political and social issues.
Recently, Gibbs spoke with the ITA on a number of subjects, including her use of social media and early thoughts on her 2017 season.
Questions and Answers
Intercollegiate Tennis Association (ITA): You were quoted in the official ITA Ann Lebedeff Leadership Award release. What's your take on the creation of the award and what it stands for?
Nicole Gibbs (NG): From my vantage point, it's cool to see the ITA Ann Lebedeff Leadership Award encourage student-athletes to become involved in their communities and use their voice; it's something I wish I'd done earlier.
ITA: Was it difficult for you to commit to putting your thoughts on political and social issues out there on social media?
NG: In a sense, it was hard to break the seal and start the narrative. To go from a persona that was shooting the middle, I can now actually be myself and I can share my opinions and I may risk ostracizing some fans, but standing up for what I believe in has helped me develop my brand as a tennis player. Since I started speaking out, there was a great profile done on me by The New Yorker.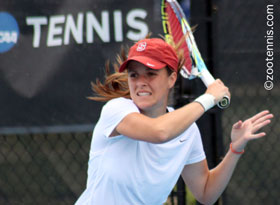 ITA: Have you received any feedback from the players in the locker room?
NG: Honestly, it doesn't come up that much. I played against Serena (Williams) at the Australian Open and she was asked about how I'd be vocalizing my opinions and she was very positive and said she admired what I was doing. To hear my personal hero back up what I'm doing was very validating and an incredible feeling.
ITA: What's the overall response to your posts been like?
NG: Everything I post in terms of opinions, I receive a mix. It's mostly support; obviously, people are following me for that reason. And then there's some that disagree and will say that they think I shouldn't vocalize my opinion as an athlete.
There's a couple of ways to view negative comments. Some are just disagreeing to disagree and trolling, and then there's some people that disagree with a stance, but are helping create a dialogue and that can be a powerful tool. It's important to distinguish between the two.
ITA: In terms of on the court, how do you view the start of your 2017 season?
NG: Reaching my second-ever third round at a (grand) slam was definitely the way I wanted to start the year. I'm really happy to start on a positive note and gives me a lot to build on. Playing Serena on Laver was overwhelming; I tried to go into it playing my game and not worried about the outcome; the worst scenario would've been losing 6-0, 6-0, and that wouldn't have been the first time Serena's done that to an opponent. I tried to soak up the environment and gave myself a lot to build on, and I'll feel differently the next time I step onto Laver.
ITA: What did you learn from that match against Serena?
NG: I learned a lot about how to frame matches like that. In the past, I got stage fright and had not played well. I learned about what going into a match with nothing to lose will do for me going forward in my career. When I take on another player on center court, I want to make it really competitive. I feel like I belong there, it's a matter of getting the reps in.
ITA: In the second round at the Australian Open, you took on another former college tennis star, Irina Falconi. What was experience like?
NG: First of all, it was awesome to have three former college tennis players in the second round. Jennifer Brady got to the fourth round and it really is a reflection on how well college tennis develops players. In terms of the Falconi match, it's always stressful going up against a fellow American. I really committed to playing from the beginning of the match to the end and that's what pushed me past the finish line. She's a great player and ambassador for the sport. We're good friends off the court, so it was cool to play a college tennis match in a great environment.
ITA: How did attending Stanford prepare you for life on the pro tour?
NG: College helped me develop into a balanced person. The tour is not just tennis; you have to a CEO, self-marketer, a good business person, make public appearances and work with sponsors. The idea of athletics as a full-time profession is lost on people; they think you just go out and play your sport. Having a near-Economics degree from Stanford has been so valuable to me. In terms of playing tennis at Stanford, it enabled me to work on my social skills and being a part of a team transformed me into a well-rounded person.
Big Finish ...
We don't usually carry fresh content on the weekends, but this is Signing Week! Tomorrow we wrap up our Signing Week coverage by talking with Michigan State commit Sarianna Kuuttila of Albuquerque, N.M. That article will be available tomorrow morning. You can check out any of the other great articles right now, as Tennis Recruiting brings you complete coverage of Spring Signing Week 2017!
About the ITA
The
Intercollegiate Tennis Association
(ITA) is the governing body of college tennis, overseeing men's and women's varsity tennis at all levels - NCAA Divisions I, II and III, NAIA and Junior/Community College.
Comprised of nearly 1,700 men's and women's coaches representing over 1,200 institutions across the country from all three NCAA Divisions, as well as the NAIA and Junior and Community Colleges, the ITA oversees activities involving over 15,000 varsity college student-athletes. In addition to ITA collegiate coach members, the ITA welcomes collegiate varsity players, junior players, corporate, and affiliated membership of alumni, associate, college parents, conferences & associations, international federations, junior family and professional.
Connect with the ITA on Facebook, Twitter, Instagram, YouTube, or on their website.
About CrampsAWAY
CrampsAWAY is proud to sponsor the Countdown to Signing Day series of articles at TennisRecruiting.net.
What is CrampsAWAY Pro?

CrampsAWAY Pro is an all-natural, food-grade liquid supplement that can prevent or instantly stop cramps. CrampsAWAY comes in convenient single-serve packets, perfect for any athlete on-the-go. CrampsAWAY Pro is completely safe and free of any banned substances. It's also NSF Certified for Sport, so athletes can use it whenever needed, with the assurance that they are not putting anything foreign, unhealthy or illegal into their bodies.
Are any elite athletes using CrampsAWAY?
Absolutely! CrampsAWAY Pro has become the go-to cramp solution for many of the best athletes in the world; including pro sports teams in the NCAA, NFL, NBA, MLB and MLS. Also, many top ATP players use CrampsAWAY Pro as a competitive advantage, including John Isner, Jack Sock, James Blake and Tim Smyczek.
Connect with CrampsAWAY on Facebook, Instagram, Twitter, and YouTube - or on their website.
About YONEX
We are honored to have YONEX as the presenting sponsor of our Where Are They Now? article series at TennisRecruiting.net.
YONEX

YONEX is a successful global company with its corporate headquarters located in Tokyo, Japan. Subsidiary companies operate around the world, including the United States, the United Kingdom, Germany, Canada, Taiwan and China (Golf). YONEX continues to be driven to produce the most technologically advanced sports equipment to enable players, both amateur and professional, to play their sport at a higher level.
Connect with YONEX on Facebook, Twitter, Instagram, YouTube, and Pinterest, - or on their website.
Leave a Comment
More "Where Are They Now?" Features
30-Jul-2019
Allen Grateful She Accepted the Challenge at Navy
Stefanie Allen spent four years playing at Navy, and has continued to serve the country as a Marine Corps officer. She was a platoon commander in Okinawa, Japan and currently works as a defense systems analyst. Find out more in "Where Are They Now?"
27-Jun-2019
Egoroff's Post-College Tennis Career Takes Flight
Former Florida Tech player Erin Egoroff is training to become an air traffic controller. Egoroff majored in aeronautical science at Florida Tech, which decided to cut its tennis programs. Egoroff and other alumni attended one of the final matches this past season to say goodbye.
30-May-2019
UVA Support System Remains Strong for Vahaly
Brian Vahaly built a strong support system while attending the University of Virginia. The All-American solicited life advice from the network once his tennis career ended. He's now the chief financial officer for Solidcore, an expanding fitness boutique studio.