Special Feature
USTA Adds Brad Stine to National Collegiate Coaching Staff
by
Colette Lewis
, 7 October 2015
Brad Stine's 30 years as a coach began in college, where he was hired as an assistant coach at Fresno State immediately after completing his eligibility there. After a decade coaching at the ATP level, most notably with four-time slam champion and former world No. 1 Jim Courier, Stine's career has come full circle, with his appointment as the newest member of the USTA Player Development's collegiate division.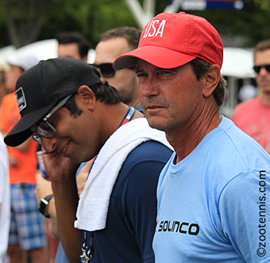 Stine, who also coached Mardy Fish, Taylor Dent, and Sebastien Grosjean during his time as an ATP coach, joined the USTA as a
National Coach
last year, after many years working in junior development at his Stine 360 Academy in Fresno.
Stephen Amritraj, previously the only coach in the USTA's collegiate division, introduced Stine to assembled ITA college coaches last month at the US Open in New York, and suggested I talk with Stine about his new position with the USTA. When rain delayed play at the American Collegiate Invitational we sat down to talk, with the topics including the reasons he decided to pursue coaching, the five requirements for success as a pro, the value of the college pathway and the ITF's push for more prize money at the lower levels, among others.
Questions and Answers
Colette Lewis (CL): I know you've worked with juniors and young professionals the past year at the USTA. Why did this opportunity appeal to you?
Brad Stine (BS): I'd been working with Austin Krajicek and Dennis Novikov, so it was just a natural transition from that standpoint, and because of my years in college tennis, I've always had an affinity for it. I worked with Jonathan Stark, who played college tennis, and spent time with Jared Palmer and quite a few other guys that came through the college system. It's kind of a natural fit for me, because I am a believer in the system. Some guys are less so than that maybe, but I was happy.
CL: What is your personal college tennis background?
BS: I was a very mediocre college player. I played junior college tennis at Canada (California) College. We were big rivals with Foothill College, about ten miles down the road. I played at Canada the same time as Brad Gilbert played at Foothill; we won the state championship one year and they won the state championship one year.
Then I transferred and played two years at Fresno State. I was assistant coach at Fresno State for three years, right afterwards.