Who's Hot?
Prince Hot 100 List - December '15
by Amelia Thomas, 14 December 2015
As the school semester comes to a close, students are burdened with papers, projects and exams. Many junior players, however, still make time for tennis. We caught up with a few notable players in this month's Prince Hot 100 Lists.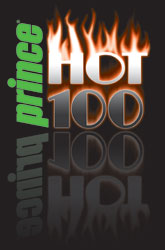 The Prince Hot 100 lists are published each month, and the December Hot 100 lists feature the one hundred boys and girls who most improved their rankings during the month of November. You can find out more about the Prince Hot 100 - and how the lists are calculated - by reading here.
The latest lists, published earlier today, are available here:
We talked to a few of these top performers...
Roundup
Joseph Brailovsky (N. Potomac, Md.)
Four-star sophomore Joseph Brailovsky has been improving on the court latelt, and he credits his recent growth to his physical and mental development.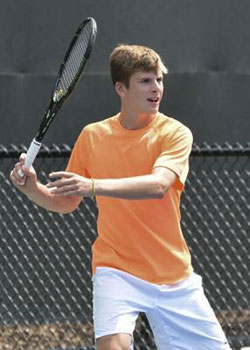 "I credit my good play to the hard work that I have put in over the past few months. My focus and discipline has guided me to adjust myself to any obstacles that I face on the court," he said. "I have become mentally and physically stronger, which has helped me build up the confidence to trust my game and training."
Brailovsky calls himself an aggressive baseliner and grinder. "I like to break down my opponents. Using my heavy forehand and aggressive backhand, I like to move my opponent around the court" he said. "Also good defense allows me to transfer from defense to offense smoothly."
The four-star player works with coaches Ben Capucciti and Scott Brown of the College Park Tennis Center. "I am working on many things with my coach such as different positioning in my serve and better footwork and movement inside and out of the court," he said.
Brailovsky used these newfound skills in what he described as his best match of late. At the USTA MAS Challenger in Lutherville, he fought his way to the finals to meet five-star junior Eric Yoo. Brailovsky was unseeded in the tournament, but he believed he was playing better and better with each match.
"I knew I had a shot at winning the tournament," he said. "Eric has always been a good player in the mid-Atlantic section, and I had never played him before. We both had difficult semifinal matches going into the match. I trusted my physical limits, and I felt as if I outlasted him in the match." Brailovsky's physical endurance paid off, and he won the match, 5-7; 6-0; 6-2.
In addition to winning this tournament, Brailovsky became the champion of the USTA Open Regional Tournament in College Park. His undefeated performance earned him a 10-0 record for the month.
Brailovsky has not yet considered college, but his parents, Julia and Edward Brailovsky, believe his competitive spirit will take him far. "Our son is a competitor and always has been with anything," they said. "Any game that is played with his older brother is always very competitive and intense."