Tournament Feature
The Orange Bowl's 60th Anniversary Produces Many Firsts
by
Colette Lewis
, 14 December 2006
When the late Eddie Herr organized the first Orange Bowl in 1947, it's unlikely he envisioned champions from Austria, Bulgaria and Romania sixty years later, but players from those three countries, along with one from the U.S., are celebrating victories at the prestigious international junior tournament now held at the Crandon Park Tennis Center on Key Biscayne.
Girls 16s
The U.S. champions at the Orange Bowl are many, of course, and include Grand Slam winners John McEnroe, Chris Evert, Jim Courier and Andy Roddick, to name just a few. Two-time boys' 18s champion Harold Solomon now has more than fond memories however; he has a student who is an Orange Bowl champion, 15-year-old Allie Will of Boca Raton, Fla.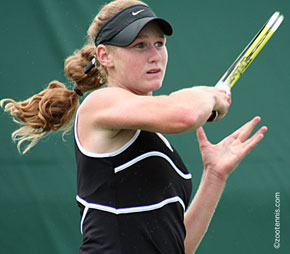 Will, who prevailed in an All-Florida final versus
Lauren Embree
6-4, 6-1, is a relative newcomer to tennis. Although an all-sports star as a child in California, she didn't began to play tennis until she was 10, and her rapid progress led her to the Evert Tennis Academy in Boca Raton.
Coached there by Andy Brandi, Will continued to improve, and when Brandi joined Solomon as a partner at the new Harold Solomon Tennis Institute early this year, she followed him to the Lauderdale Tennis Club.
"I love Evert, I love all the people there," said Will, "and I still talk to a lot of the players and coaches. It was hard to leave, but I think it was the right decision for my game."
Solomon attended the finals, and although the gusty winds and championship jitters made for a shaky start for his pupil, she turned the match around late in the first set, after losing four of the first five games.
"I had a little trouble closing out the points," said Will, who also struggled with her toss in the blustery conditions. "But toward the end of the first and all of the second, I started closing out the points better and putting away the volleys."