Winter Nationals Week
Sixth-seeded Alshon Wins 16s Winter Nationals
by
Gary Curreri
, 7 January 2016
Boca Raton's Christian Alshon hadn't lost a set throughout the USTA Winter National Boys 16s Championships in Arizona.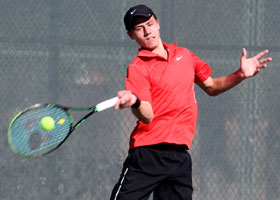 That was until he faced the top-seeded
Carson Haskins
(Ballwin, Mo.) in the title match at Scottsdale Ranch Park in Scottsdale.
The two split the first two sets, 6-4 and Alshon trailed 5-4 in the third set before he held serve and went on to close out the match winning the final three games to secure his first ever gold ball at nationals in singles.
"This is the first time I made the finals in singles of a Super National," said Alshon, 15, who previously won two gold balls in doubles in Boys 14 Hard Courts and Boys 12s Clay Courts. He also has a bronze ball in singles in Boys 14s Hard Courts. "This is my best singles win ever ... It is the Super Nationals, Level 1 with the best competition, especially when I am 15 winning at 16s. It's really good.
"This is a lot more impressive knowing that there was no one there helping me, other than my family and my coaches when I was on the court," Alshon said. "It was just up to me. Winning this gives me a lot of confidence. It helps me with my next matches and my ranking."
Alshon cruised to the singles final without losing a set. Alshon lost a tough three-setter with doubles partner Russell Benkaim (Bradenton, FL), 0-6; 7-6(6); 10-6 in the round of 64. Benkaim, seeded 17th, defeated Kevin Zhu, (Pearland, Texas) 6-3; 6-2 to win the consolation singles final.
"I was just trying to get to my ranking," Alshon said. "Since I was seeded sixth, I wanted to get to the quarters and once I got there, I saw the draw and that it was possible to win. I just fought and hoped for the best."
Alshon called Haskins a mystery since he had never faced him before.
"I had never seen the kid play before so he was a mystery to me," Alshon said. "He has a very high ranking so beating him helps my confidence. I played really well the whole weekend. [Haskins] just got everything back. The points just took so much longer so by the second set I was really tired and I just stepped it up.