Who's Hot?
PlaySight Hot 100 List - April '16
by Dallas Oliver, 18 April 2016
The calendar turns, bringing us closer to the beginning of another junior tennis season. Although there are opportunities to play tennis year-round, conditions for playing tennis are perfect this time of year. Daylight Savings Time has kicked in... there are only a few more weeks of school... the weather is getting warmer... conditions are perfect.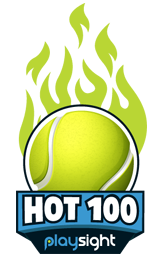 Some junior tennis players have gotten a jump on spring tennis. Many of those player show up in our regular PlaySight Hot 100 feature.
The PlaySight Hot 100 lists are published each month, and the April Hot 100 lists feature the one hundred boys and girls who most improved their rankings during the month of March. You can find out more about the PlaySight Hot 100 - and how the lists are calculated - by reading here.
The latest lists, published earlier today, are available here:
We talked to a few of these top performers...
Roundup
Henry Lieberman (Fayetteville, N.C.)
Henry Lieberman started off March with a bang. The three-star sophomore first traveled to Augusta, Ga., to capture the title at the Southern States Top 32 Super Championships without losing a set. He did it again the following weekend - taking the Greensboro March Madness Junior Championship - losing no more than four games in any one match until the final. That performance lifted Lieberman's ranking in the Class of 2018 into the Top 300 for the first time in his career.
Lieberman credits his improvement to a renewed dedication to hard work and focus.
"I have been working on getting the most out of my practice and hitting sessions - staying more focused throughout," says the 5'9" right-hander. "Practicing like that has helped me maintain my focus in matches as well."
His parents, Ann and Nate Lieberman, agree.
"Henry has been working very hard," said Nate. "He came up with his own fitness schedule at the start of the year, and he has stuck to those workouts very well. He has definitely started beating kids that he didn't always beat before - and that has been a great confidence builder for him."
One such opponent in March was Charlie Schuls (Gastonia, N.C.), whom Lieberman faced in the finals in Greensboro.
"I had lost to Charlie in a tight match about a year ago," said the Terry Sanford HS sophomore. "This time I won 6-2, 6-4, and I was confident throughout the match. Even though I got down 2-4 in the second set, I knew I just needed to continue to play aggressively."
Lieberman works with Kevin Caccia of the Highland Country Club in Fayetteville.
"Right now we are working on being more aggressive and assertive on the court," he said. "I have all the shots - I need to work on shot selection and taking control of points."
Lieberman is also an excellent student - making honor roll at Terry Sanford each semester - and is a member of the National Honor Society. That combination of academic and athletic excellence could bode well when it comes time for college.
"I have been exploring colleges, and I would love to play college tennis," said Lieberman. "I am working hard to put myself in a position to go to a great school with a strong tennis program."