Recruiting Feature
Countdown to Signing Day 2017
by Rhiannon Potkey, 9 October 2017
The early signing period is quickly approaching. November 8th is the first day of the one-week stretch when high school seniors can sign a National Letter of Intent with Division I and Division II schools.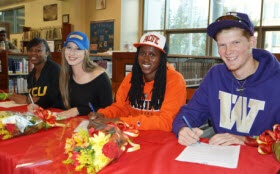 Starting today, the Tennis Recruiting Network and GAMMA are ready to bring you wall-to-wall coverage in our Countdown to Signing Day series. Each day will bring fresh content to the website - with recruiting features, advice, and coach interviews appearing regularly.
Our college commitment lists (boys, girls) are kept up to date all year, and new commitments come in daily. But remember, those verbal commitments are not binding, and players can flip to other schools at any point until they sign their letter of intent.
Here is our planned coverage schedule:
GAMMA Countdown to Signing Day Series
We get things get started this afternoon at 3 p.m. ET/noon PT with a column from Dave Mullins detailing why it's important to tell coaches no.
Check back regularly over the next month, as Tennis Recruiting and GAMMA bring you a courtside seat to the Countdown to Signing Day!
About GAMMA
GAMMA is proud to sponsor the Countdown to Signing Day series of articles at TennisRecruiting.net.
Greatness is a Unique Path at GAMMA

GAMMA is a privately owned company with over a 40-year history of developing innovative products for players of all levels. Best known for GAMMA high performance irradiated tennis string, today GAMMA markets and sells an entire line of over 5,000 products including GAMMA racquets, strings, racquet accessories, tennis balls, grips, vibration dampeners, Ball Hopper® ball baskets and teaching carts, court equipment, and 10 and Under teaching aids.
Connect with GAMMA on Facebook, Twitter, Instagram, and YouTube - or on their website.
Leave a Comment
More Website News
1-May-2018
Now Open ... May Madness Bracket Challenge
Nothing beats the excitement of the NCAA tournament! For college tennis fans, May is the time for Madness, and this is your chance to step up. With the right combination of skill and luck, you can earn bragging rights - and prizes - by making your picks for the Big Dance!
9-Apr-2018
Spring Signing Week '18: Signing Week Arrives
The Tennis Recruiting Network and GAMMA kick off our coverage of Spring Signing Week '18 with a look at the Top 100. We preview our weekly coverage, and we update you on the status of all the top 100 boys and girls who were uncommitted when we checked in with them in March. A few of these kids plan to announce their decisions this week.
12-Mar-2018
Countdown to Signing Day
It's that time of year again. Signing Day is approaching. April 11 is the first day of the Spring Signing Period, when seniors from around the nation can sign their National Letter of Intent to play college tennis at Division I or Division II schools. As usual, The Tennis Recruiting Network and GAMMA will get you ready with our Countdown to Signing Day.
About Rhiannon Potkey
Rhiannon Potkey is a veteran sportswriter with more than two decades of experience in journalism. Potkey has covered many sports at many levels and has a passion for finding great stories. Potkey has covered the U.S. Open, junior sectional and national events, college conference championships and Davis Cup matches. Potkey is currently Content Strategist for Tennis Recruiting.