Tournament Feature
OSU's Di Lorenzo, Stanford's Fawcett Claim ACI Titles
by
Colette Lewis
, 18 September 2017
The American Collegiate Invitational, an event for top-ranked Division I players from the United States, is now an established part of the final weekend at the U.S. Open. This year, its fourth, produced two exciting finals, with top seed Francesca Di Lorenzo of Ohio State defeating Ingrid Neel of Florida 4-6, 6-4, 6-4 and unseeded Tom Fawcett of Stanford beating Michael Redlicki of Arkansas 7-6 (4), 6-7 (6), 6-4.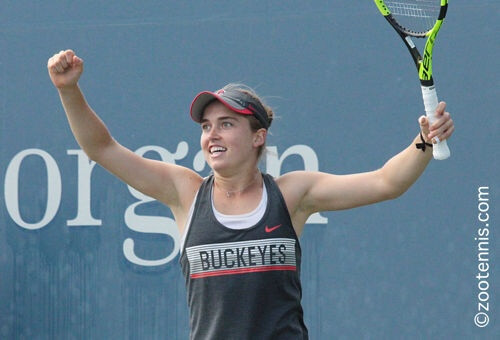 ACI champion Francesca Di Lorenzo of Ohio State
©
Zoo Tennis
Di Lorenzo, who finished her sophomore year this May as the ITA's top-ranked player, claimed a spot in the final with a 6-1, 6-2, victory over North Carolina sophomore Sara Daavettila 6-1, 6-2, followed by a 6-4, 6-1 win over UCLA sophomore Ena Shibahara. Neel had a much tougher path, beating No. 2 seed Hayley Carter, a recent North Carolina graduate, 4-6, 6-4, 6-2 and Sydney Campbell, a recent Vanderbilt graduate, 6-4, 1-6, 6-2.
It was Neel who looked the fresher of the two to start the match, played on Court 5 at the USTA's Billie Jean King National Tennis Center, with Di Lorenzo dropping serve in the third game and Neel saving the only two break points she faced.
"I was nervous and I had the mindset of winning so badly," said Di Lorenzo, who will decide whether to return to Ohio State for the dual match season after competing on the Pro Circuit this fall. "I had lost two other finals this summer in Pro Circuit events, so I really wanted to redeem myself in a finals atmosphere, I guess you'd say. I was definitely very tight in the first set and just did not play well. Credit to Ingrid, because she played well, was timing the ball extremely well. Even in the second set, some of her returns were untouchable, but I stayed in there and fought as much as I could until the end."
Di Lorenzo took a 5-2 lead in the second set, but could not cash in on any of her three set points in the next two games. Neel got back on serve when she broke for 4-5, but a double fault led to two more set points for Di Lorenzo and she converted on the fifth.
By this time, the mixed doubles final on Arthur Ashe Stadium had finished and many of those spectators began to filter over to Court 5.
"It was really nice to see," Di Lorenzo said. "Two college girls, on Court 5 - it's a great court, but not like some huge stadium court. It was really nice to see it packed at the end; it was cool."