Recruiting Profile
Countdown: Ambrozy Joins Lions' Lair
by
Colette Lewis
, 25 March 2016
Adam Ambrozy took his fifth official recruiting visit last fall to ensure he had left no stone unturned. Both Columbia and the blue chip recruit benefitted from that decision, when, just days after his trip to the New York City campus, Ambrozy committed to the Lions.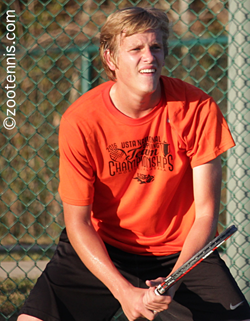 Wary of the Big Apple, Ambrozy was not considering Columbia when he began taking visits last fall.
"I actually was not going to visit Columbia, but I had four visits down, the fourth in the middle of October to Notre Dame, and I decided to visit Columbia just because I had an official left," said the 18-year-old from St. Petersburg, Florida, who had also taken official visits to Brown, Harvard and Indiana.
"The coach kept talking to me and he seemed nice. I was afraid of New York City at first, but I thought I'd give it a try, it'd be cool to go.
"I went on a Monday, Tuesday, which was a little weird. I watched the team practice, and I liked the practice a lot. A lot of set play and live points. The assistant coach Howie (Endelman), a really cool guy, took me to the city and we did a bus tour, showed me the city. I enjoyed the campus. It's in the city, but it's a very nice campus. You kind of feel secluded from the city when you're a student there, apart from all the craziness for a little bit.
"I didn't think I'd like New York City that much, but I really enjoyed it. That's why I picked it."
As the No. 15 ranked player in Tennis Recruiting Network's class of 2016, Ambrozy had plenty of options, but he did hit a stumbling block at Harvard.
"Actually when I visited Harvard, they told me my grades were good enough, what scores I should get, and I got the scores," said Ambrozy, a senior at St. Petersburg High School. "I thought everything was set. I visited the school, did an interview, and a week later and they called me up and said, I'm sorry, we can't get you in.
"I have a feeling it was the interview, the interviewer didn't like me much. They're looking for like, Harvard-material students. My grades aren't perfect, I don't have amazing scores, so I'm not going to have the grades and scores of kids who do nothing but school, because tennis takes a lot of my time. I think the interviewer just didn't understand that. Things didn't work out with Harvard, but that's ok, I like Columbia better now."