Special Feature
Former USC Star Doubles As Emma Stone
by Rhiannon Potkey, 27 September 2017
Kaitlyn Christian has a body like Emma Stone and a game like Billie Jean King.
Those attributes landed the former NCAA doubles champion a role in "Battle of the Sexes."
Scheduled for nationwide release on Friday, the movie depicts the true story of the 1973 tennis match between King and Bobby Riggs.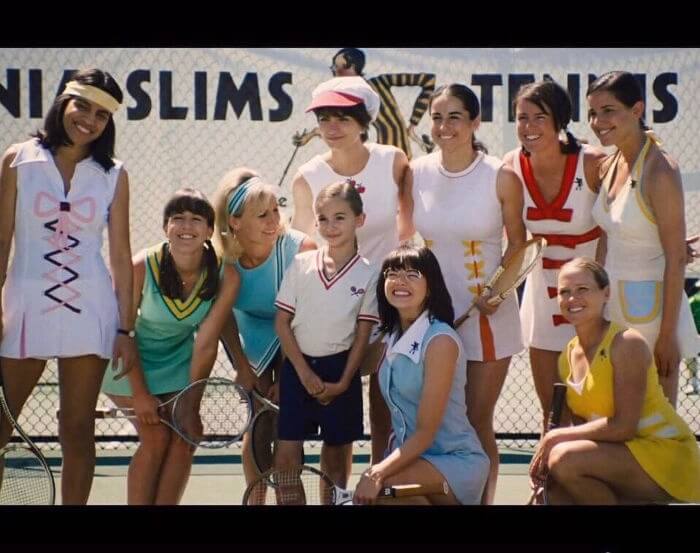 Former USC Star Kaitlyn Christian (Red/White) With The "Battle Of The Sexes" Cast
Christian, 25, is the tennis body double for Stone, the award-winning actress who plays King in the movie.
"It just sort of fell on my plate out of nowhere," Christian said. "The entire process happened really, really quick. I got pretty lucky. It's truly a once-in-a-lifetime opportunity."
Although she was surrounded by budding filmmakers while growing up in Southern California and attending USC, Christian never imagined she would set foot on a movie set.
But her coach at USC, Richard Gallien, knew Lornie Kuhle, a longtime friend of Riggs who was in charge of finding players for the movie.
Kuhle came to a tournament in Rancho Santa Fe where Christian was playing and recruited a few women to audition for roles.
Two days later, Christian reported to the Fox Studios in Los Angeles to get measured and showcase her tennis. She checked every box as Stone's body double - a fitting title for a talented doubles player - and was hired the next day.
"I had to meet the dimensions of Stone clothing-wise, and the biggest thing they were looking for was someone who knew how to hit a slice like Billie Jean King. I hit a few slices and volleys and I guess they liked it," Christian said. "I really had no idea what to expect when I went there, but I could not have been more excited when they told me I got the part."
Not only was Christian selected as a body double for Stone, she received a non-speaking role in the movie. She plays Australian Kerry Melville Reid, one of the "Original Nine" - a group of nine women that defied the tennis establishment in 1970 to start their own tour.
The only downside about the acting gig?
"They told me I had to cut my hair, which was a little bit sad for me," Christian said. "But I got over it, and I am glad that I did because it was a great experience."