Recruiting Feature
Countdown: Rock Chalk for California's Deming
by Sonny Dearth, 11 October 2017
Having grown up in California, Julia Deming originally planned to attend college there. But last year, a journey to the heartland changed her mind.

Deming, a five-star recruit from Oasis High School in Fallbrook, has committed to become a Kansas Jayhawk, joining the program run by head coach Todd Chapman and assistant Caroline Lilley.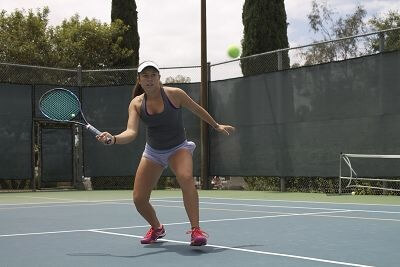 Julia Deming Has Committed to Kansas
Deming, 17, will join a Big 12 Conference team that reached the NCAA tournament last season, falling 4-3 to
Notre Dame
in the first round to conclude a 13-11 year. During the regular season, Kansas posted wins over then-No. 33
UNLV
and then-No. 22
TCU
.
Kansas has just one senior on its 2017-18 roster, which includes players from New York's Long Island, Russia, South Africa and Spain.
As a junior last year, Deming was drawing plenty of attention from college coaches.
"Before Sept. 1st, they had been sending me questionnaires and I had answered them," Deming said of Kansas. "Then on Sept. 1st, Caroline, the assistant coach, called me. We talked for 45 minutes, and I absolutely loved the conversation.
"I started doing more research on the school and took a visit last November, and I absolutely loved the school and the area. I got to go to a basketball game and it was amazing. I got to meet Todd and the whole team and enjoyed it. Plus, they had a program that I'd like to major in. It all kind of fell into place."