Recruiting Feature
Countdown: Hilderbrand Headed To UCF
by James Hill, 12 October 2017
Next summer, Trey Hilderbrand will be able to utilize the resources of the sprawling USTA National Campus in Orlando, Fla.
The San Antonio resident, ranked No. 1 in Texas, will have an inside track for playing at the USTA haven. Hilderbrand has given a verbal commitment to the University of Central Florida, and head coach John Roddick. The Knights claim the National Campus as their home facility.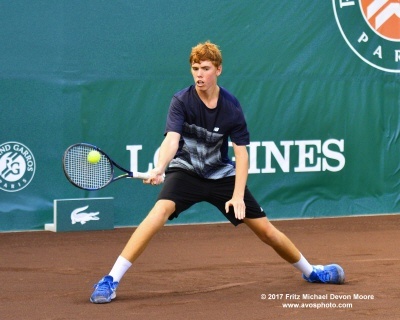 "I chose Central Florida because America's pros train at the same facility," said Hilderbrand. "Coach John Roddick has worked with many ATP players, and knows what it takes. With his knowledge, Coach Roddick was all in with me very early, and that meant a lot to me because I know he's not lacking players to join his team. I know coach will put together a team that contends for a national championship."
Roddick, whose younger brother Andy was the last American male to win a Grand Slam title in 2003 at the U.S. Open, was named director of tennis at Central Florida in May 2016. He has oversight of the men's and women's programs. Roddick joined UCF after seven seasons at the University of Oklahoma, leading the Sooners to three consecutive NCAA runner-up finishes.
Last season, UCF finished with a 16-7 record. The Knights lost a tightly played 4-3 match to Louisville in the first round of the NCAA Championships.
Hilderbrand trains at San Antonio's Oak Hills Country Club Academy, and is home schooled. His personal coach is his father, Mark Hilderbrand, who has been the academy director for two years. Previously, he was director of Northside ISD's tennis for 10 years. Hilderbrand resigned to travel with his son, and became a freelance coach.