Recruiting Profile
Countdown: Back Healed, Pratt Goes Back To Wisconsin
by Rhiannon Potkey, 31 October 2017
The doctors discovered the scoliosis when Jared Pratt was 8.
Pratt wore a brace for three years, but surgery to fix the sideways curvature in his spine became inevitable.
Knowing college tennis was an eventual goal, Pratt decided to have the surgery in 2013 before he moved into the more competitive 16s and 18s divisions.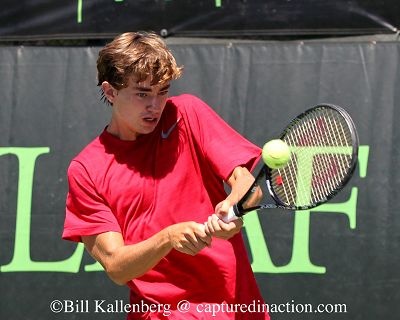 He was sidelined for nine months, and slowly worked his way back onto the court. He went from completely immobile to lightly hitting a few balls to winning tournament matches again.
"I came back and felt like I was playing just as good if not better," Pratt said. "I think the biggest thing was getting used to not being able to generate as much kick on my serve as easily. I thought moving would be a little harder, but it didn't feel much different for me."
Pratt's recovery didn't hinder his collegiate aspirations. After taking official visits to several schools, the blue chip senior decided to attend one near his former hometown.
Pratt has committed to Wisconsin, which is located only a few miles from where he grew up before moving to South Carolina at age 10.
"I started playing tennis there and obviously had a connection," Pratt said. "I thought I could play right away my freshman year there and get in the lineup at least somewhere. I also didn't want a small school. I wanted a school with all the other major sports, and Wisconsin has all of that."