Who's Hot?
PlaySight Hot 100 List - May '16
by Dallas Oliver, 16 May 2016
As the 2015-2016 school year comes to an end, the excitement of summer is almost here. Memorial Day beckons - with swimming pools and cookouts. Tennis season gets a bit more serious for juniors with school out of session, and the top professionals head to Roland Garros this weekend.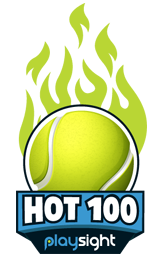 Today, Tennis Recruiting and PlaySight help get summer started with another edition of the PlaySight Hot 100. The PlaySight Hot 100 lists are published each month, and the May Hot 100 lists feature the one hundred boys and girls who most improved their rankings during the month of April. You can find out more about the PlaySight Hot 100 - and how the lists are calculated - by reading here.
The latest lists, published earlier today, are available here:
As usual, we talked to a few of these top performers...
Roundup
Haddy Salem (Knoxville, Tenn.)
Most junior tennis players would love to have the kind of April that Haddy Salem had. He won the third-place playoff at the Georgia State Junior Spring Open before winning titles at both a Southern Level 3 and the Tennessee State Closed. That performance was good enough to lift Salem 40 spots in the Class of 2019 to No. 249 - his best ranking of 2016.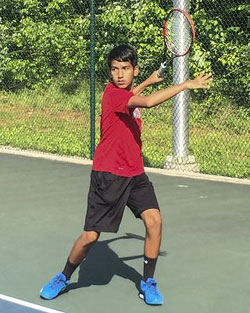 "I've been working hard for a long time - working on new things to add to my game," said Salem, a 5'6" lefthander. "I have been working on my serve and forehand - which have helped me a lot. I have gotten a lot of confidence from improving these shots."
Salem is coached by his father, Yaser Salem, but he has also worked with Steven Annacone and is now working with Rob Cameron of the Tennessee Tennis Club and Academy.
"My coaches are helping me become more aggressive because I have been too defensive in some matches," said Salem. "I also am working on a bigger serve to help me hold serve more and become a little free on return games."
His improvements were on display at the Southern States Top 32 Super Champs against 3-Star freshman Casey Markulike of Cumming, Ga.
"Going into the match, I knew he was an exceptional player, and I was going to have to fight hard to win," said the Knoxville native. "He started fast - going up 3-1 and then 5-2 in a match with many long points and many deuces. He would always get everything back with pace. He would eventually win the first set 6-3 and went up 4-1 in the second. I knew maybe I had a chance if I stayed close and got the next two games, and I did to make it 4-3. I would then go down 5-3 but he would start to miss a lot more and I eventually would take the second set 7-5.
Salem would go on to take that match against Markulike with a nail-biting 3-6, 7-5, 1-0(8) victory.
Salem comes from a family that enjoys tennis. His older brother, Amir, was a big part of that.
"My dad introduced me to tennis, but my brother Amir also had a big influence on me," said the younger Salem. "He was winning a lot and was having a lot of fun [with tennis]. I wanted to have the same thing so that's how I got big into tennis."
Salem is a freshman at the Tennessee Online Public School, where he is an honor roll student who maintains a 3.9 GPA. He is the son of Ang and Yaser Salem, and they continue to reside in Knoxville.
Salem's parents are proud of their son's accomplishments - as well as his tenacity.
"Haddy has been working very hard and listens to all the advice that we or the coaches give him," said his father, Yaser. "He has a strong will and determination not to give up, and he is a very humble kid on and off the court."