Commitment Profile
McNally's Path Leads Straight to Columbus
by
Colette Lewis
, 6 May 2016
Born and raised an Ohio State football fan, John McNally always expected to join the Buckeyes once it became clear his level of play would allow him to compete for one of the nation's top programs. Dismissing a brief temptation to look elsewhere, the 17-year-old blue chip from Cincinnati has announced his commitment to Ohio State for the fall of 2017.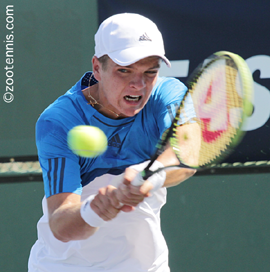 "I've always been a Buckeye fan, a diehard football fan, ever since I was a baby," said McNally, who is ranked third in the Tennis Recruiting Network's Class of 2017. "I went to every single football game home and away from like age 5 to 11 and I still go to all the home football games."
But for all his allegiance to the football program, McNally's goal of a career in pro tennis was a more significant factor in his decision to join Ty Tucker's program.
"I've known Ty since I was like eight years old," McNally said of Tucker, now in his 17th year as the head coach of the Buckeyes. "I actually hit with him from when I was 8 to 12, until I had to stop hitting with him due to NCAA rules."
"I'm planning for more than college tennis, at this point, and I think that Ty is the right coach for me to develop for the next level," McNally added. "I think he's doing the best job of it right now, with guys like Connor Smith, Peter Kobelt - Blaz [Rola] was 70 in the world at one point. He has a great work ethic and he knows what I want, and he knows how to handle kids at my level."
The family connection to Ohio State and its proximity to his Cincinnati home also played a major role in McNally's decision.
"I had my mind set on going there pretty young. And then I started to think, oh, maybe I should look other places, see what other places have to offer. So I didn't know where I was going to go," McNally said.
"Then I just sat down with my parents and my grandparents - my grandparents are a huge part of it. They're the biggest Ohio State fans I know, with my grandfather like a second father to me. I wanted to go to school there because it's an hour and a half away from home. My parents will get to watch me play, my grandparents will get to watch me play. My friends and other family will get to watch me play, and that would have been kind of tough if I had gone somewhere like Georgia, or some of the other schools I was considering.