College Summary
Bowdoin Men and Emory Women Claim NCAA Team Titles
by
Colette Lewis
, 27 May 2016
The NCAA Division III team championships at Kalamazoo College displayed two sides of college tennis, producing an improbable champion in the Bowdoin men and a favored champion in the Emory women.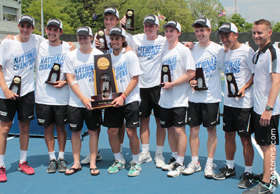 As the No. 4 seed, Bowdoin was hardly under the radar, but their road to the final was a daunting one, particularly after losing all three doubles points to unseeded
Johns Hopkins
in the quarterfinals. The Polar Bears recovered, barely, with Jerry Jiang getting their fifth point in a third set tiebreaker to advance.
Facing top seed and favorite Emory in the semifinals, Bowdoin earned a second straight 5-4 victory, handing the Eagles their first loss to a Division III team this year to advance to the final for the first time in program history.
Their opponent in the National Championship match was a familiar one, No. 3 seed Middlebury, who had defeated Bowdoin 5-1 less than three weeks ago in the NESCAC conference final. Middlebury had beaten Washington-St Louis 5-1 in the quarterfinals and No. 7 seed Chicago 5-2 in the semifinals, after Chicago had upset No. 2 seed and defending champions Claremont-Mudd-Scripps.
Middlebury, who lost to CMS in last year's final, had the edge in both recent history and experience, and the hot and humid conditions were not ideal for Bowdoin after two grueling 5-4 wins the previous two days. But it was the Polar Bears who came out blazing, taking early leads in all three doubles matches and closing out the sweep with a minimum of drama.
Bowdoin coach Conor Smith wasn't sure how to react to that start, the exact opposite of what his team had faced against Johns Hopkins.
"It was weird, I think I was more uncomfortable today having the lead, does that make sense?" said Smith, whose team also had trailed Emory 2-1 after doubles. "I almost like playing from behind, so today was nerve-wracking, being up was very nerve-wracking."
Bowdoin didn't let up however, taking four first sets in singles, leaving Middlebury with an uphill climb.
Luke Trinka, Tuesday's hero in Bowdoin's victory over Emory, was the first off the court with a 6-2, 6-3 win over Palmer Campbell, who had clinched Middlebury's 5-2 win over Chicago in the semifinals.
The fifth point looked as if it would come from Gil Roddy at line 5, with Roddy up 4-2 over Hamid Derbani. A break at love gave Roddy a 5-2 lead, a two-break cushion that comes in handy when serving out a championship. In his first attempt, the sophomore from Massachusetts got to 40-30, but he didn't convert when a mishit backhand from Derbani caught the far sideline.
"I kind of knew it was going to come down to my match when everyone starting filling up behind me," said Roddy, noticeably hoarse from all the vocal encouragement required in the past three days. "My match point, the shank backhand that landed on the line, it had to happen. Stuff like that has to happen. It was tough. His service game went by pretty quickly, I didn't put up much of a fight in that game, but coming out, at 5-4, that first point was everything."
In his second attempt to serve it out, Roddy put away an overhead, then got a backhand error from Derbani for 30-0. On the next point, Roddy hit a deft backhand volley that drew rousing cheers from the Bowdoin faithful.
"The stab backhand volley was just lucky," said Roddy. "I guessed right, I guess. I was just trying to make first serves in the last game and put pressure on him."
Roddy closed out the championship with a first serve, and when Derbani's return floated long, Bowdoin had the first men's sports national championship in school history.
Just beating Middlebury, let alone for a national championship, was memorable for Roddy.
"We haven't beaten them since I've been here, the last five times they've beaten us - three last year, two this year," Roddy said. "But the stage, it's an equalizer. Everyone has the same nerves. They were in the finals last year, but it's a much different setting. This was our match, and we just thought about it that way, rather than it's Mid."
Smith said the recent 5-1 loss to the Panthers was in no way discouraging.
"That was close," said Smith, a recipient of the obligatory water and ice cooler shower after the match. "There were a lot of close singles matches, and Mid played really good doubles, hit us in the mouth early a couple of weeks ago. The singles matches were all battles, and it was closer and more competitive than the first time we played them when it was 5-4. So it actually boosted our confidence, made us more ready for today."
Smith credited the relaxed attitude of his team for their performance today.
"The guys were so loose, and I'm not like that, I'm not loose at all," said Smith, in his fifth year at Bowdoin. "It's just the identity and persona of this team. They just have fun with everything, and we really needed that to be able to win today, to pull it off in these kinds of circumstances and pressure."
Middlebury coach Bob Hansen credited Bowdoin for their performance, while he continued processing the loss.
"We're a bit perplexed," said Hansen, who won seven team titles while at UC-Santa Cruz before taking over at Middlebury five years ago. "We're still trying to digest it, still scratching our heads. We knew they were a good team, a well-coached team, and I give them a lot of credit. They played hard, they played well, and they were the better team today. We're still trying to find the perspective, but it's a hard way to end a season."
While Bowdoin was a newcomer to the Division III team finals scene, the women's championship was a battle between longtime rivals. After losing to Williams 5-4 in the 2015 final in Mason, Ohio, Emory reversed the result in Kalamazoo, taking their second title in the last three years by that same 5-4 score.