Who's Hot
Hot 100 List - November '17
by Amelia Thomas, 21 November 2017
As the holidays draw closer and the weather begins to cool in many parts of the country, many players might be tempted to put down their rackets for the winter. The Hot 100 list, however, brings us 100 junior players that are still heating up the court.
We caught up with a few outstanding players in this month's article:
Alyssa Zayat (Broken Arrow, Oklahoma)
Three-star junior Alyssa Zayat made the change to home schooling at the beginning of 2017. She decided to attend the Tucker Tennis Academy and enroll in the "Philosophy Home School Program."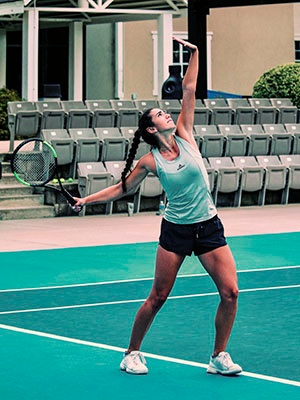 Three-Star Junior Alyssa Zayat
The change to home schooling allows Zayat to dedicate more time to tennis. She spends three hours a day on the court training, with an additional two private lessons per week. She also does an hour and a half of fitness per day.
Zayat credits this change for her gradual improvements over the last year.
"Spending more time on the court has significantly improved my all-court game and my confidence," she said. "Since I have been dedicating more time to tennis, my game has been improving, which has led to better results."
Zayat works with coaches Jorgelina Cravero, Matias Marin and Trent Tucker at the Tucker Tennis Academy. Currently, they are working on Zayat's forehand and serve.
"We are working on my forehand and using my legs more to drive the ball deeper into the court," she said. "I have a powerful first serve, but we continue to work on my second serve to mix up kicking it in and slicing it with the same ball toss and motion."
Zayat and Cravero are also working on her mental game.
"Another big learning tool is that you don't always have to have your 'A' game, but you have to have confidence in your game that you can win not playing your best tennis," Zayat said.